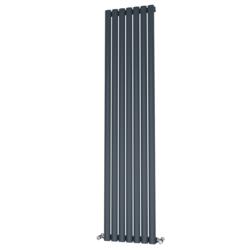 Wadebridge, Cornwall (PRWEB UK) 25 April 2013
In early 2011, the MaxHeat brand was born. It consisted of around 30 ladder towel rails in white and chrome, aimed at the budget end of the market. Today, following the launch of the MaxHeat Designer range, the brand is aiming to capture mass appeal, whilst retaining the core values of being affordable.
After considering the buying habits of thousands of daily users, the buyers at Pioneer Bathrooms drew up a shortlist of styles that were obviously popular. With a great deal of data available to the company, it was possible to source several styles of radiators and towel rails, but without the big brand names putting a premium on the pricing.
The result was the MaxHeat Designer range; consisting of 4 towel rail styles, and 3 radiator styles. These exciting additions boast quality workmanship and construction, on a par with items over twice the price. The Elliptical range of round-tubed radiators have been extremely well-received, available in white, black and anthracite - offering a great contrast to existing homeware. Square-tubed towel rail and radiator offerings were also added to the range, as well as radiator valves and heating elements allowing the user to customise their purchase to meet their decor and fuel requirements.
Following the launch of the products, Chris Watts was able to give an insight into how the products are going to be marketed. "We have taken inspiration from a number of brands that we currently provide - Reina and Radox immediately spring to mind. This is why we have sourced stainless steel towel rails and a few vertical radiator styles. The main difference is, rather than paying for the brand name, we're aiming to sell at factory prices and capture those customers who do not care what badge is on the product. The factories we work with will honour a guarantee, just as a brand name would."
MaxHeat is just one of four exclusive brands to the HeatandPlumb.com website. Along with Prestige, Desire and Duchy, MaxHeat is gaining a reputation in the industry for the highest quality radiators and towel rails. The MaxHeat Designer range is available from HeatandPlumb.com right now!