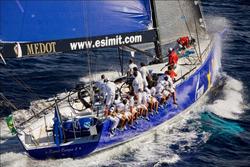 A week of spectacular races at the Maxi Yacht Rolex Cup in Sardinia brought a new triumph for Esimit Europa 2 and crowned it as the best Maxi class yacht in the world
Porto Cervo, Italy (PRWEB) September 11, 2010
A week of spectacular races at the Maxi Yacht Rolex Cup in Sardinia brought a new triumph for Esimit Europa 2 and crowned it as the best Maxi class yacht in the world. In the competition of 49 yachts of up to 45 meters in length that included luxury as well as some of the most technologically advanced boats, Esimit Europa 2 won all four races and took also first place in its division. Igor Simcic's 30-meter European beauty, sponsored by Gazprom, has exhibited the speed and several outstanding tactical manoeuvres that impressed the crowds watching the regatta from the coast of Costa Smeralda.
"I am very happy that we won the title of the best Maxi class yacht in the world, as both the yacht and the crew have shown that they are extremely well prepared for even the most demanding situations, which claimed some of our excellent competitors. I thank Jose Manuel Barroso, the president of the European Commission, Gazprom, our main sponsor, and all Europeans who believe in and support our project. Every victory for Esimit Europa 2 is a victory for them," said Igor Simčič, owner of Esimit Europa 2 and General Manager of the Esimit Europa project, at the award ceremony.
"This was a very exciting week with changing weather conditions that included very calm weather as well as extremely strong winds. The yacht was exceptionally fast and excellently prepared and the crew was learning every day, which enabled us to win in corrected time as well. We are particularly happy about that. We have two more regattas ahead of us, Barcolana and Rolex Middle Sea Race, which we see as a new opportunity to prove ourselves," added Flavio Favini, the yacht's skipper.
Famous Barcolana will take place on 10 October and with more than 2,000 registered boats it promises to be a spectacular event once again. The Esimit Europa 2 crew will train in the Bay of Trieste before the regatta.
Additional information:
Gorazd Mauri, Public Relations Manager, Esimit Europa
Address: Corso Italia 226/228, Gorizia, Italy
Telephone: +39 366 675 90 92; +386 41 876 427
E-mail: gorazd.mauri(at)esimit(dot)com
###