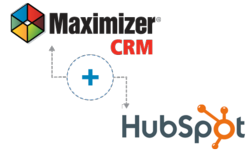 "If your CRM isn't integrated with your online lead generation activities, you're missing out on valuable process efficiencies, potential sales growth, and closed loop reporting."
Vancouver B.C. (PRWEB) June 25, 2013
Maximizer Services Inc, a leading provider of simple, accessible customer relationship management (CRM) and mobile CRM solutions, today announced a new partnership with the all-in-one marketing software company HubSpot. Maximizer has signed a referral partnership agreement with Hubspot Inc and is also releasing a powerful new integration to connect Hubspot's all-in-one inbound marketing software to Maximizer CRM.
"Sales and marketing team's need to be working in close collaboration with clear transparency across the entire lead management process, from lead creation to lead nurturing to closed opportunities," explained Maximizer Services Inc. President Vivek Thomas. "If your CRM isn't integrated with your online lead generation activities, you're missing out on valuable process efficiencies, potential sales growth, and closed loop reporting."
The Maximizer CRM: Hubspot Connector will make it easy for Maximizer customers to amplify inbound marketing efforts to generate a greater quantity of leads while sending highly qualified leads into Maximizer for sales follow up. With an increased level of lead intelligence for every prospect and effective lead nurturing sales teams can have more engaging conversations, resulting in more productive sales cycles.
"Inbound marketing is all about replacing the world's interruptive and loud marketing with marketing people actually love. HubSpot gives companies the tools they need to leverage inbound marketing to attract, connect, engage, and delight prospects, customers, and leads. Now, Maximizer's HubSpot Connector enables Maximizer customers to go a step further by integrating HubSpot's powerful inbound marketing software with Maximizer's CRM tool to give Maximizer customers a comprehensive, personalized view of interactions with their prospects and customers," said Peter Caputa IV, Vice President, Sales & Marketing, Global Channel & SMB at HubSpot.
With the new integration Maximizer will also be able to offer Hubspot customers a clear path to a powerful, simple to use CRM which can extend the value of Hubspot to a sales group and beyond.
"Maximizer is committed to developing integrations with a broad range of solutions that help customers get ever more value out of their investment in the Maximizer CRM solution," added Thomas. "The integration offered in the Maximizer CRM: Hubspot Connector will bridge the gap between sales and marketing offering new capabilities to boost sales productivity and marketing effectiveness."
Highlights of the Maximizer CRM: Hubspot Connector

Get leads generated from your website into Maximizer CRM with a complete prospect profile including lead source, webpages viewed, marketing content downloaded and recent web visits
Adapt sales conversation based on the each prospects website activity and interests.
Create alerts and assign follow up tasks when a prospect returns to your website
Determine which marketing efforts generate leads and offer the greatest ROI
Report on marketing influence on closed opportunities with closed/won statuses in Maximizer being sent back in HubSpot
The connector integration was developed by the Maximizer team who will also be responsible for updating the connector, integration and services related to the new solution.
To learn more please visit: http://www.maximizer.com/hubspot-inbound/