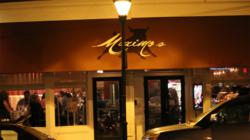 Come join us on our lovely European patio to enjoy Sunday brunch! - Chef Maximo
Richmond, Virginia (PRWEB) May 30, 2012
Maximo's Spanish & Italian Bistro will officially open its doors to the public on Friday, June 1 at 6:00pm. The restaurant that features traditional dishes from Italy and Spain is located at 14North 18th Street Richmond, VA 23223 in the location that formerly belonged to Touch Ov Soul.
Completely renovated, Maximo's interior displays glass columns, granite bar tops, hardwood floors, and brushed steel fixtures, giving it a modern edge. At the same time, Spanish pottery, plates and artwork can be seen throughout, grounding Maximo's in it's European concept.
"I want to bring the best authentic Spanish food from Spain. I believe that with the best ingredients, our restaurant will give the community a state-of-the-art dining experience combined with a personal touch to pair with greatness and a wonderful wine list…" says chef and owner Maximo Mozo.
Maximo's Shockoe Bottom location features three dining areas, including a full menu bar, and private Spanish Villa style dining on the back patio. The restaurant menu will offer familiar Italian restaurant dishes such as Lasagna, and Veal Marsala, but will also feature Spanish Tapas – an assortment of traditional dinner appetizers typically served in Spain. "My goal is to provide the freshest ingredients and combine them to create a wonderful culinary experience for my customers along with a great ambiance." Says chef and owner Nick Rossicci.
Maximo's was conceived only four months ago when, now owners Maximo Mozo, Maria E. Mozo, and Nick Rossicci stopped through Richmond on their way to Raleigh, NC. "We fell in love with the Shockoe Bottom area, and knew right away this is where we want to be," says owner and business development manager Maria E. Mozo. The restaurant hosted a private dining preview on Thursday, May 24, and after a warm reception, is now ready to open for business.
Maximo's Spanish & Italian Bistro will be opening Friday June 1 at 6:00, however its regular hours will be Tuesday thru Saturday from 12:00 pm until 10:00 pm. Maximo's will also begin offering a Sunday brunch at 10:30 am on Sunday June 10. The brunch menu will feature weekly specials and will be available each Sunday until 3:30 pm.
For more information on Maximo's visit http://www.MaximosBistro.com
Contact:
Maria Mozo
Business Development
(804) 447-0654
Richmond, Virginia USA
info(at)maximobistro(dot)com