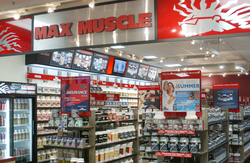 "We already have twenty-nine new stores in various phases of construction in 2010"
Anaheim, CA (PRWEB) December 10, 2009
The year 2009 underscored a national trend showing that Health Care and Exercise taking center stage ranging from the American Medical Association issuing a nationwide directive that every American needs a daily multivitamin supplement, to President Barak Obama making health, nutrition and 'eating clean' center focus for a nation. Savvy investors have taken note.
"We already have twenty-nine new stores in various phases of construction in 2010," said Patrick Sanders, President of Peak Franchising, Inc and Chairman of the Board of the Franchisee Association. "With more than 150 Max Muscle Sports Nutrition locations open nationwide, and interest in the industry's true unique platform in delivering education, sound nutrition planning for individuals, and products that set the safe and effective standards, we're on a growth curve like we've never seen before. It's a savvy entrepreneurs opportunity of - quite literally - a lifetime."
Max Muscle was forged into the national spotlight on two separate occasions in 2009 whereupon both the Food & Drug Administration and the Drug Enforcement Agency cracked down on an industry in which many unscrupulous companies attempt to hone in on a marketplace that is projected to grow at a rate of $1.3 to 1.9 billion dollars per year in each of the next five years. On both occasions, Max Muscle Sports Nutrition was spotlighted for having stellar 'Good Manufacturing Practices' and sales of both franchise units and in-store sales continued to climb.
"We've been in business since 1991," said Sean Greene, President of Max Muscle Sports Nutrition. "Luckily for us, we began this business by always carefully selecting our sourcing of product we use in our manufacturing, back everything with a Certificate of Authenticity, and of course, everything is developed, tested and approved by our own Chief Scientific Officer Dr. Phil Harvey to assure that only the best bear the Max Muscle name."
While 'quality of product' and 'best manufacturing processes' go a long way, the consumer is choosing Max Muscle Sports Nutrition in droves, instead of any perceived competition, for two exclusive reasons: The In-Store Experience and the fact that Max Muscle Sports Nutrition stores are staffed by Certified Sports Nutrition Experts, not clerks.
The difference is best analogized by stating that walking through the door of a Max Muscle store is like walking into a place where you can walk up to any employee of the store, state specifically what you'd like to attain - better nutrition, lose weight, gain muscle, feel better - and a custom program with select products will be developed for you on the spot. Then, after the sale, that same employee will check in with you weekly to help keep you on track through education, motivation, and a variety of Max Muscle exclusive products and tools ranging from a nationwide online community of like-minded individuals, to a store-equipped education center where custom meal, diet, exercise and nutrition plans are developed for customers.
"With Max Muscle, there is no 'one size fits all'," said Sanders. "That's the differentiator that people are gravitating to. A truly exclusive one-on-one experience, that is personal, professional, supported, and unavailable anywhere else. There are lots of places to by nutrition products, but there is only one franchise opportunity available for people who see that it is preventative nutritional and health initiatives that the nation is yearning for."
Indeed, Max Muscle's latest store opening in Fairfax, Virginia has raised eyebrows in a community that is directly adjacent to the Capitol and its daily cry for the American public to take heed of what they eat and how they exercise. Within a month of its opening, Police Departments, Fire Departments, and Media Personalities, and others walked through the door demanding custom nutrition plans and direction in nutritional supplementation.
"I do not often take time from my exceedingly busy schedule to pen such words of thanks but I felt compelled to do so in this case." wrote Tom & Bubba, Two Time Guinness Book of World Records inductees and owners of Bubba's East Coast Rods & Customs in Fairfax, Virginia. "Anyone who cares enough to take the time for my son Bubba and displays a sense of family like I received from Kristin and Austin in Fairfax has a moral compass that points the same direction as mine. Bubba and I are EXTREMELY pleased with not only the product but what wonderful people Kristen and Austin are. You can bet your bottom dollar Bubba and I will continue to support and bring exposure to Max Muscle."
It's a passion often extolled from customers of Max Muscle, and through vehicles like each franchise's custom website, MySpace, Twitter and others, the reputation of Max Muscle continues to be elevated not through marketing, but through the very customers they serve.
"The men and women who qualify to own one or more Max Muscle Sports Nutrition franchises build strong retail businesses in choice locations across America using a responsive, proven business system that includes marketing, management, sales, training, and product knowledge that really works!" added Greene.
To learn more about how to qualify for this meaningful, rewarding and "more timely than ever" franchise business, interested parties can peruse the company's Five Steps of Information about franchising in general and Max Muscle Sports Nutrition in particular, on the company's franchising website at http://www.maxmusclefranchising.com.
For more information, contact Rich Carr, at http://www.CarrKnowledge.com or call Max Muscle Sports Nutrition franchising direct at 1-888-629-6872 ext #2
###