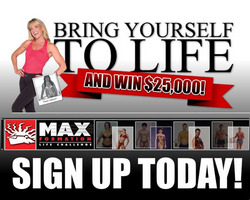 When we conceived Max Muscle Sports Nutrition in 1991, we imagined a place where you could walk in off the street, be greeted by an expert who could guide you to your goals, not just sell you product.
Anaheim, CA (PRWEB) December 29, 2008
Max Muscle Sports Nutrition is rewarding $25,000 cash to the individual who can best attain their New Year's Resolution of losing weight and gaining lean muscle and fitness in 2009.
'Bring Yourself To Life' is the call to action in Max Muscle's "MaxFormation Life Challenge", an online interactive community of people from across the United States who, like more than 60% of our population, desire to lose fat, get fit, gain muscle and live better active and healthy lifestyles.
"The $25,000 Reward is just that, a Reward." said Max Muscle President and co-founder Sean Greene from the company's Anaheim, California headquarters. "Almost everybody has the desire to be in better shape. So we're taking the most popular time of the year when people are setting their personal fitness goals to introduce them to our MaxFormation Life Challenge. This national contest articulates the experience of walking into any of our 160 stores across the country. You're greeted by a Certified Fitness Nutrition Coach™ who can design a customized nutrition plan specifically for you while supporting that plan with the most scientifically advanced nutritional and supplemental products available anywhere."
The online MaxFormation Life Challenge contest delivers each contestant their own personal website, free of charge, where they enter their goals, post 'before' photographs of themselves, set personal goals, record milestones, and keep an online and public journal of their fitness journey. Contestants can interact with each other online, providing motivation, accountability and support while striving to meet their goals, add friends to their profile, and ask questions to each other and Max Muscle Certified Fitness Nutrition Coaches™ via email and personal messages directly from the online community. The top contestants will be chosen via online voting by the contestants themselves and the hundreds of thousands of visitors http://www.MaxMuscle.com already achieves online by being the leader in sports nutrition.
"When we conceived Max Muscle Sports Nutrition in 1991, we imagined a place where you could walk in off the street, be greeted by an expert who could guide you to your goals, not just sell you product." said former NFL Player and co-Founder Joe Wells. "Our stores are managed by Certified Fitness Nutrition Coaches™ who back your personalized goals and plan with our scientifically developed and extensively tested proteins, diet and weight loss support, total body supplementation and nutrition. When you walk into a Max Muscle store, the experience is catered to your needs specifically. That's why we succeed as a business and as a person's nutritional partner."
Max Muscle Sports Nutrition has risen to its current heights of more than 160 stores nationwide and was featured for the second year in a row in the Fortune 500 "Best Businesses for 2009" by leading the industry in nutritional and supplemental advancement in fitness and weight loss education, innovation, product support, and consumer appreciation. A record of more than forty-six consecutive months of same store sales growth has fueled the growth of new Max Muscle Sports Nutrition locations around the country as fit professionals opt out of stocks and real estate and opt into a Max Muscle Sports Nutrition store of their own since forecasts for the fitness and weight loss industries continue to climb.
"We're the 'Eat Right' in 'Eat Right and Exercise'." said Greene. "You truly are what you eat, and since we're all unique people with specific needs, you need a place where you can go where the people know you, your goals, and can support those goals with professional advice, supplements and nutritional products that assure your body is being fed precisely what it needs to get to where you want to go."
"That's why we're rewarding the best body transformation $25,000 this year." said Wells. "We've helped thousands of customers achieve their fitness and weight loss goals. The MaxFormation Life Challenge online gives even more people the opportunity to achieve goals they never thought possible, do it with the support other people going through the same process, constant motivation, accountability and education available 24/7, and now an additional incentive of $25,000 to help you keep your eye on success. "
Both Wells and Greene routinely log onto MaxFormation themselves at http://www.MaxMuscle.com and welcome new MaxFormation contestants to the online community offering support and encouragement via Comments on their personal pages.
"We know that if you're educated, one on one, by a Certified Fitness Nutrition Coach™ whose focus is only on your needs and desires, and at the same time are supported by a vast knowledge base of articles, recipes, workout plans, and a community of individuals that are all working on their similar yet personal goals, you'll succeed." said Greene. "Over the years, the thousands of testimonials from people that have not just lost weight, but achieved true life happiness by enjoying their new active and healthy lifestyles is our success. We intend to bring more people to this level of enjoyment through the MaxFormation Life Challenge and its record $25,000 Grand Prize this year."
For more information about Max Muscle Sports Nutrition's MaxFormation "Bring Yourself To Life" $25,000 Reward, visit: http://www.MaxMuscle.com
###