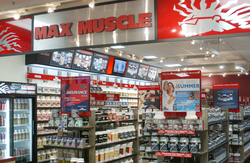 The uniqueness of the study is the fact that the participants will go to Max Muscle stores to get their 30 day supply at no cost to them.
Anaheim, CA (PRWEB) April 20, 2010
The Researchers at Southern California University of Health Sciences, in conjunction with Max Muscle Sports Nutrition's Chief Scientific Officer, Dr. Phil Harvey and Max Muscle Stores, are implementing one of the largest scale weight loss studies ever conducted. The study is going to provide a 30 day supply of Quadra Cuts and weight monitoring at no cost to the first 2500 participants that qualify to take place in the study.
According to Max Muscle Sports Nutrition President Sean Greene, "The uniqueness of the study is the fact that the participants will go to Max Muscle stores to get their 30 day supply at no cost to them. Qualified participants will be weighed and measured over a 30 day period and all results will be tabulated by the University. Our stores also offer customized nutrition planning by Certified Fitness Nutrition Coaches™. "
There is a pre-enrollment period currently underway online at http://www.maxmuscle.com where individuals interested in taking part in the study simply fill out an on-line questionnaire to see if they qualify. Candidates that qualify will be matched with a Max Muscle Sports Nutrition store location in close proximity to each participant.
"As access to information has become faster and easily acquired over the internet, people have become more proactive in acquiring health information online; 40% - 50% of cancer patients search the Internet for healthcare information." said Clark D. Danielson, a consultant in Education, Nutritional Supplements and Wellness. "There has also been interest in using the internet for healthcare research as increased access to potential subjects and lower treatment costs make it a viable option. Successful clinical trials over the internet have been reported using treatments for: osteoarthritis of the knee with a nutritional supplement, improving diet and physical activity of healthcare employees, depression symptoms, and people with excessive alcohol drinking behavior. The advantages of internet clinical trials, as documented in these four different healthcare specialty areas, are being able to reach a greater number of treatment subjects with more diverse demographic characteristics, completing the trials in much less time and at a much lower cost."
It's only fitting then that Max Muscle Sports Nutrition be the first company to offer its own product - Quadra Cuts Extreme - as the Trial's subject. There are literally hundreds of weight loss supplements on the market. Many of them contain ingredients listed in the Supplement Facts panel that have very technical sounding names and many make untruthful, misleading and even ridiculous claims about weight loss. A example of a safe and effective weight loss ingredient, Advantra Z®, is found in Quadra Cuts Extreme.
Within many of the hundreds of weight loss products available are also an extensive array of ingredients that claim to result in weight loss, fat loss, fat burning (beta oxidation), and thermogenesis (an elevation of body's metabolism). The sad truth is that many have no scientific evidence that they are safe for humans to take and, furthermore, have no shred of scientific evidence that they do anything to promote weight loss.
Based on The Dietary Supplement Health and Education Act of 1994 (DSHEA), the FDA does allow a product to make a legal structure/function claim referring to the normal structure and function in humans and not claim that the product can treat, diagnose, cure or prevent any disease. Obesity is defined as a disease, but overweight is not. The manufacture of the product is responsible for ensuring the accuracy and truthfulness of these claims and the claim must be truthful and not misleading to the consumer. To support any claim, there needs to be clear, credible and objective scientific substantiation that the ingredient or ingredients has this effect the product is claiming. The FDA disclaimer must also be included on the product label(†). Frankly, there are a large percentage of ingredients and products that make untruthful and misleading claims, do nothing for weight loss and are a total waste of money.
Quadra Cuts Extreme, by Max Muscle Sports Nutrition, is scientifically designed for adults to support maximum calorie burning (thermogenic), accelerated weight loss specifically fat (fat oxidation), increase energy, elevate the body's metabolism (thermogenesis) and suppress appetite. Among several other evidence-based ingredients, Quadra Cuts Extreme contains the patented ingredient Advantra Z®, an extract of citrus fruit (Citrus aurantium) also called bitter orange. Advantra Z® contains a unique and synergistic family of bioactive amines including synephrine, N-methyltyramine, hordenine, octopanime and tyramine. These agents specifically stimulates beta-3 cell receptors that increase metabolic rate without affecting heart rate or blood pressure.
Added Greene, "You can trust Max Muscle Sports Nutrition to bring you products with safe and effective ingredients with science-based educational materials to support truthful and accurate claims. If you're interested in this study I suggest you go to http://www.maxmuscle.com right away as the first several days of promoting this study within Max Muscle Sports Nutrition stores across the country have already yielded significant interest and the study is limited to the first 2,500 qualified registrants."
Max Muscle Sports Nutrition is committed to improving the health of people from all walks of life including men, women, young adults, everyday fitness enthusiasts, as well as high school and college athletes. Employees are extremely knowledgeable and take the time with each client to pinpoint their health and fitness goals in order to find the best program, products and supplements for them to achieve those goals. Whether your goal is to lose weight, gain weight or simply dedicating yourself to a healthier lifestyle- Max Muscle Sports Nutrition provides the best products and services.
For a Max Muscle Sports Nutrition store near you visit http://www.maxmuscle.com and click 'Store Locator'.
###