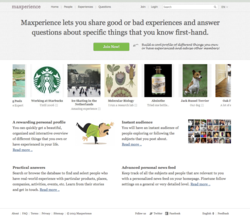 The only source of knowledge is experience.
Amsterdam (PRWEB) April 24, 2013
First hand experiences beyond Q&A
The site's focused experience groups differentiate it from conventional question-and-answer sites. Maxperience members create a profile based on their personal experiences, products owned and subjects of expertise. This establishes a group of experts for each topic that visitors can contact directly for advice. Besides ensuring more quality responses, this avoids that questions are just posted into outer space to everybody (or nobody) or that answers only come from the same old friendship networks.
While experience posts and online reviews have tremendous value, they are a dead end if users can't easily follow up on the subject. "We combine the strengths of feeds, posts and reviews with structured Q&A," explains co-founder Mario Grunitz. "With Maxperience, we've built the Quora for your everyday questions."
Show what you know
"The name Maxperience shows that users not only maximize their own experiences, but also those of others," says co-founder Bart Brummelkamp. "You can easily contact experts who have personally experienced what you want to know. For those people, it's rewarding to be able to help others by sharing their knowledge." Co-founder Mick Tinbergen adds: "On Maxperience, you make a personal, visual profile of your experiences. We've noticed that users feel a sense of pride about what they know or own."
Alongside Q&A, Maxperience enables members to share good and bad experiences even when there are no questions posted, for instance about successful purchases, wrong choices, or new solutions. In a nutshell Brummelkamp says, "On Facebook you share what you like. On Maxperience you show what you know."
Platform for business
Maxperience also caters for small businesses who can build a visual profile of their expertise and share professional advice on specialized topics from repairing machinery to business travel. Grunitz anticipates increasing business visitors from specialists, marketers or brands on the site. "Businesses can come into direct contact with people who are actively searching for their product or service. We're currently testing paid answer modules which could open a potential new income stream for small businesses to position themselves as experts in their field and reach out to new customers in a more service-oriented way where users pay only when they're satisfied with the quality of the answers."
About Maxperience
Maxperience was founded by Bart Brummelkamp, Mick Tinbergen and Mario Grunitz. With extensive experience in Q&A, technology startups and digital media, the Amsterdam-based trio redesigned Maxperience from AskAnOwner, one of the world's first question-and-answer sites launched in 2000 in Dutch and English. Due to the dotcom bust, the site was inactive for several years but was gradually revived when the trio saw an opportunity to infuse Q&A with social engagement through a complete re-imagination of the site's design and technology. Partly thanks to previous data from AskAnOwner, Maxperience launched from day one in four languages and has over 30,000 subjects with answered questions from users in 175 countries.
An account on Maxperience is easily created by logging in via Facebook or Twitter. Members can always ask questions anonymously. The website Maxperience is currently in beta. For further information and press enquiries please email: press(at)maxperience.com