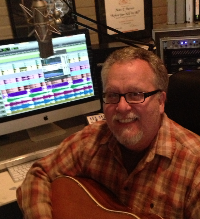 Nashville, TN (PRWEB) April 16, 2013
Max T. Barnes has partnered with Backwoods Recording Studio to consult with its clients on Song Critiques and Artist Consultations. Never before has an online recording studio offered and promised the rewards of consulting with a true Nashville multi #1 hit songwriter.
"The most difficult part for aspiring artists is determining who to trust in Nashville to help them make the best demo that will give them a quality product, and finding a credible resource who will not just take their money and run," said Tony Ray Jones, Backwoods Owner and President. "We want to give artists and songwriters the best services possible from consulting to final product and we are truly excited to have united with talent like Max T. Barnes to help us accomplish this."
Artists choosing Backwoods Recording Studio will have live access via Skype or phone to Max T. Barnes for a song critique at an affordable rate. During this session, Max will evaluate the artist's song and help them perfect the music by looking at the lyrics, melody, structure, title and idea, as well as the rhythmic identity and marketability of the song.
In addition to these services, Max will also provide new artist consultation, as well as songwriting coaching services. "I am glad to offer my over 30 years in the music industry to struggling and up-and-coming artists along with the help of Backwoods. Nashville is a very competitive town and some songwriters and musicians struggle for years to get their songs published and produced. My goal as a consultant is to provide some simple techniques and approaches that can enhance their songs and get them noticed a lot faster," said Max T. Barnes. "I have worked with artists like Diamond Rio, Joe Diffie, Collin Raye and Randy Travis, and that experience has given me valuable insight to help others. It is always a thrill to see new artists take their work to the next level after we've worked together."
Backwoods Recording Studios provides not only consulting services, it also provides demo singers, songwriter demos and fully produced, radio-quality demos. These demos can be mixed and recorded onsite at their recording studio in Nashville or via a simple MP3 file transfer online as well as receiving CD's via the mail.
About Backwoods Recording Studio
Backwoods Recording Studio is at the forefront of providing professional yet affordable recording and songwriting services for artists aspiring to develop high quality demos to advance their musical careers. Today, the company maintains both online and offline studio recording capabilities. It has produced many demos for aspiring artists and songwriters and its professional consulting and coaching staff continues to inspire country music artists and songwriters at every level. Backwoods Recording Studio specializes in Country, Acoustic and Christian music. More information is available at http://www.backwoodsrecordingstudio.com