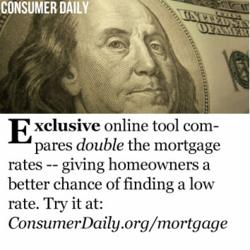 Orange County, CA (PRWEB) May 12, 2013
The Washington Post joins other national media like the Associated Press in announcing record low mortgage rates. The question comes to mind, "How can Consumer Daily's mortgage comparison data help homeowners save money?" What Consumer Daily is doing is allowing millions of home buyers access to an up-to-date list of today's mortgage rates from a vast database of lenders and banks.
New mortgage rates on Consumer Daily can be found at:
http://www.consumerdaily.org/mortgage/
Consumer Daily is a web portal that helps consumers connect to companies that will allow them to lower their bills. There is a wide range of companies that are able to utilize this model including insurances companies to get quotes to really great places to find local coupons.
Consumer Daily is a unique web portal that allows users to compare only car insurance and mortgage refinance rates and provides users with the way to retrieve the corresponding discounts.
According to The Washington Post quoting the Associated Press, "The average rate for the 30-year fixed loan dipped to 3.41 percent from 3.43 percent....That's not far from the 3.31 percent rate reached in November, which was the lowest on records dating back to 1971."
Consumer Daily has developed a platform for consumers to take advantage of this news and wanted to share the information with people who utilize their unique mortgage comparison system.