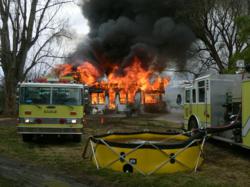 One Person, Mere Seconds
Meridian, Idaho (PRWEB) May 31, 2013
The 2013 fire season is already beginning for some western states, and AIRE Industrials' newest folding tank has hit the streets. Just off its debut at the FDIC show, the Yellow Jacket is in the field showing its merits. The tank has unique features that are huge time savers, such as the lack of loose parts and a one-person deployment design. Many firefighters and truck makers have expressed satisfaction with the folding tank's ability to set up in seconds as opposed to minutes and with only a single person. The tanks small footprint takes up less space on the truck allowing other important gear to be stowed.
In a year where the sequester is taking its toll on appropriations, Interior Secretary Jewell states that budget cuts will effect the number of boots on the ground. With fewer firefighters, allocation of labor will be important. This is where the one-person deployment feature of the Yellow Jacket shines. Having only one person setting up the tank frees others to take on mission critical tasks.
Warnings of budget cuts and allocations mentioned by Secretary Jewell, will affect ranchers, agriculture and homeowners as well. Since there are going to be less firefighters and engines available, it makes good sense to be proactive and have defensible space along with a backup water source. The Yellow Jacket tank is a wise choice for anyone interested in keeping extra water. The tank is light in weight and small enough to throw in the back of a pickup truck. It can be configured to hold potable water and can be fitted with a cover to keep the water fresh.
The Yellow Jacket folding tank is available for purchase direct from AIRE Industrial at its online web store, where secure ordering is offered 24/7.
For more information on this and other liquid storage solutions, contact Aire Industrial, 2021 E Wilson Ln, Meridian, Id 83642, 1-800-247-3846 or visit http://www.aireindustrial.net where information, photos and supplemental chemical compatibility charts can be found.
About AIRE Industrial:
Located in Meridian, ID, AIRE Industrial has combined its technical knowledge and manufacturing expertise of flexible textiles to provide liquid containment products and spill prevention solutions for government agencies, military, agriculture, environmental containment, and the wild land fire suppression industries.
The founders of AIRE Industrial are outdoor enthusiasts, protectors of the environment, and take pride in using American sourced materials and keeping jobs local. AIRE Industrial offers a complete line of flexible storage tanks and bladders as well as portable secondary containment berms, spill kits and containment products. AIRE Industrial has offices in Idaho, Washington, North Dakota, and partners in Europe, Asia, North Africa, New Zealand, The Middle East and South America. AIRE Industrial is a division of AIRE Inc. AIRE Inc. is the largest inflatable boat manufacturer in the U.S.