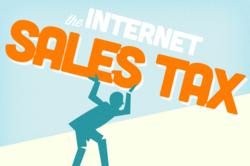 Having to file sales tax returns in 40+ states every three months will be a debilitating expense for those small businesses already having trouble trying to make ends meet...
Austin, TX (PRWEB) May 07, 2013
April was not only a big month for Gun Control, the tech industry created many waves in the small business industry as well. In this month's Top Five Tech events, ChooseWhat, the online resource for entrepreneurs and small business owners, identifies the most influential technology events and how small business owners can take advantage of their effects. Understand why Amazon is behind the new tax legislation for online retailers, Yelp's continued improvement for small business offerings with Locu, and new trends gaining traction in the mobile and consumer shopping industry.
1) Fairness is Relative:
The Marketplace Fairness Act proposed to Congress this session aims at creating a national Internet sales tax that all customers would have to pay when making online transactions. The "Fairness" aspect of the bill pertains to leveling the field between online retailers and brick-and-mortar stores. Undoubtedly, many brick-and-mortar small businesses are excited about the possibility of eCommerce sites being forced to charge sales taxes on online purchases. What may seem strange, though, is how Amazon -- the biggest online retailer -- is a proponent of the Act and subsequent tax. (via The Daily Beast, April 24, 2013)
How this applies to small business: While the aforementioned benefits to brick-and-mortar retailers are clear, the reason why Amazon and other large online retailers are behind the tax is that the Act will potentially wipe out many of their smaller eCommerce competitors. Having to file sales tax returns in 40+ states every three months will be a debilitating expense for those small businesses already having trouble trying to make ends meet, and only a minor annoyance to big businesses' highly trained accounting departments.
2) Smartphones FTW:
Last month, Allied Irish Bank debuted a 30-second TV commercial which was shot only using an iPhone 5 and no other camera equipment. The ad, which is shot through a window of a train rolling through Dublin, is not the first advertisement to be filmed only with an iPhone (Ducati Motors shot a 2 ½ minute commercial using an iPhone 4S in 2010), but it is the first one that has been aired during an actual TV broadcast. (via Business Insider, April 24, 2013)
How this applies to small business: Now that it's been shown that companies don't need expensive camera equipment to shoot a professional-quality commercial, there is no reason why an average "mom and pop" shop can't create an eye-catching video ad as well. With new video apps like Vine and Klip, it's easier than ever to show off business' products or services to potential customers.
3) Tracking Tech Trends:
From Instagram accounts to in-store Wi-Fi to inventive uses for QR Codes, FastCompany's Co.Labs editor, Chris Dannen, has unveiled a wide range of trends in tech to which companies big and small are flocking. While none of this technology (QR Codes in particular) is "new" by any stretch of the imagination, businesses seem to just now be breaching their full potential.
How this applies to small business: Early adopters of new tech have a head-start not only in beating the competition through increased efficiency, but in also offering a unique experience to their customers and clients. For example, having customers follow company on Instagram helps maintain a level of visual engagement with businesses beyond the bounds of physical location and/or website. (Read more at FastCoLabs)
4) Yelp is at it again:
After steadily growing its user-based for over six years, Yelp has really stepped it up this year. In March, the brick-and-mortar review web-app released its Business Revenue Estimator and now this month's big news – its partnership with local business data provider, Locu. As a service-based company, Locu updates your business information all sorts of sites-- like OpenTable, TripAdvisor, CitySearch, and now Yelp -- in real time. (via TechCrunch, April 23, 2013)
How this applies to small business: For businesses with any kind of menu (restaurant, bar, spa, salon, etc.) Locu seems like the optimal solution to keeping web presence up-to-date. Now that it's connected to Yelp, there is even more of a reason to sign up with Locu. Businesses can manage nearly all of online menus from one easy-to-use interface that takes less than five minutes to set up.
5) Who Says Men Don't Like Shopping?
A recent DDB lifestyle study shows a gender gap between how men and women shop using mobile devices. The study showed that more males use retail store and price-scanner apps than women. Also, more males claimed to "ideally buy everything online" and "typically shop for and buy items" on a mobile phone; and this is specifically true for Millennials, those aged 18-34 years. A whopping 40% of this group of men would prefer doing all of their shopping online. Main takeaway? It is not that men do not like shopping as much as women, men just do not enjoy GOING shopping as much. (via Adweek, April 24, 2013)
How this applies to small business: For companies with a strong male consumer base, creating a way to make eCommerce more accessible should be a top priority. Whether this means simply putting goods and/or services online, creating a mobile-optimized website, or even developing a company smartphone app, addressing these needs in the short-term is a great way to ensure a business' long-term viability.
More About ChooseWhat.com, The Entrepreneur Resource:
ChooseWhat is a resource website for small business owners and new entrepreneurs. The website offers an in depth business start-up guide to walk entrepreneurs through the process of starting their own business. Find out more: http://www.ChooseWhat.com/
###