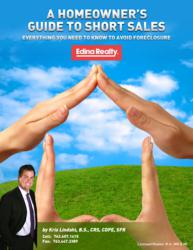 "I had to find a way to reach as many people as possible with the short sale information, because many people do not have the information they are interested in about the short sale process."
Mayer, MN. (PRWEB) October 21, 2012
"I had to find a way to reach as many people as possible with the short sale information, because many people do not have the information they are interested in about the short sale process," explains Kris Lindahl the top Mayer MN. short sale agent. Kris Lindahl combined all the short sale information into an ebook, that Kris published, titled "The Home Homeowners Guide To Short Sales." Download a copy of the "Homeowners Guide To Short Sales" at the HomeownersGuideToShortSales.com website.
"I use technology, because it is the easiest way to get information out to the most amount of people, and people are using technology now to find information, Kris Lindahl explains. "Unlike many people that are trying to make money on every aspect of the current real estate situation, I am trying to help people get their short sale questions answered so they can determine if a short sale is the right option for their situation," Kris Lindahl says.
Kris Lindahl, B.S., CRS, CDPE, SFR says, "Now with my new book I have given people the advantage of getting the short sale answers they need, when they need them. There is no other book of its kind, that is why the book will be such a great help to homeowners."
The Kris Lindahl Mayer Short Sale Team, is an accomplished group of real estate professionals who specialize in short sale transactions. "We service Mayer and all areas of Minnesota plus other areas of the country," Kris Lindahl explains, "our short sale team consists of the most knowledgeable short sale experts in the industry and has been leading the market for over 11 years. Our agents have reached over $150 million in sales with over 1,000 transactions closed, and have mastered the complexities of the short sale transaction with an outstanding short sale success rate."
Download a copy of the experienced Mayer short sale agent Kris Lindahl's new "Homeowners Guide To Short Sales" book by visiting the website HomeOwnersGuideToShortSales.com, which is full of information on the short sale process.