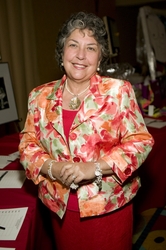 There of course, is much, much more to do
Ferndale, WA (Vocus) October 15, 2009
"It is hard to believe that two years have gone by since I was elected Mayor of Miami Beach, Florida in November of 2007"! exclaims Mayor Matti Herrera Bower.
It seems like she just finished the first campaign a few months ago, however, she is running again for a second two-year term. Unlike Miami Beach Commissioners who have four-year terms, the Mayor has to run every two years.
"Even though it feels like it takes forever to get things done, let me tell you, it has been really rewarding to work on all the things that we have accomplished in the last two years. What I am proudest of is how we managed to close a large budget gap in this difficult economic environment. We did it without layoffs or raising taxes. As I am sure you are aware, it was no small task to do this," states Matti.
Here is but a small sample of the many other things that she has accomplished in her first term: 1. Completed Renovation of Old City Hall; 2. Completed Renovation of South Pointe Park; 3. Completed the planned works on Normandy Golf Club; 4. Made repairs to The Boardwalk; 5. Restored The Flagler Monument; and 6. Expanded The City Of Miami Beach's Homelessness Prevention Program. "There of course, is much, much more to do," explains Bower.
"What is really important to me is all the help that I've been able to give the various home owners, neighborhood associations and businesses that make Miami Beach what it is. Clearly, we are succeeding because earlier this year, we conducted a survey of Miami Beach residents regarding their satisfaction with living here. An astonishing 84.8% reported their overall quality of life with the City of Miami Beach as either "excellent" or "good". Show me another city that has that?" states Matti.
These are some of the reasons why Matti should get reelected in twenty days, this 3rd of November 2009 for a second term.
To see Matti Herrera Bower's record of achievement go to http://www.reelectmattimayor.com/accomplishments.html and http://www.youtube.com/results?search_query=mayor+matti+bower
As the "Peoples' Mayor" Matti works hard to serve the diverse needs of the children, seniors, working parents, retirees, business owners, students, artists, homeowners and renters who reside in the City of Miami Beach.
A vote for Matti Bower for Mayor is a vote for the City of Miami Beach's future!
About Mayor Matti Herrera Bower
Matti Herrera Bower was elected Mayor of Miami Beach, Florida on Tuesday November 20th, 2007 at a run-off election by a commanding 54 percent popular vote to her opponent's 46 percent. She is the city's first female and Cuban-American Mayor. For more info on Mayor Bower see http://www.reelectmattimayor.com/index.html
Contact:
Christopher Costigan
Costigan Media
7700 Collins Avenue
Miami Beach, FL 33141
305-867-3880
# # #