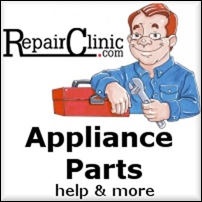 RepairClinic.com is the best appliance repair and parts site I've seen
Canton, Mich. (Vocus) April 13, 2007
Maytag appliance TV commercials are famous for their lonely repairman waiting to get the chance to service one of Maytag's dependable products, which include refrigerators, cook-tops, stoves, microwave ovens, dishwashers, washers and dryers. Consumers who do find their appliance has stopped working will often pick up the phone and call the appliance repairman. Surprisingly, many broken appliances can be fixed by people with no experience in appliance repair.
Ken R. of Delray Beach, Florida, recently managed to repair his Maytag oven. "Last November, two days before Thanksgiving, with 30 guests scheduled to arrive, I decided to use the self-cleaning feature on our Maytag oven. Two hours into the four-hour cleaning cycle, the cleaning function stopped with an incomprehensible error message on the control panel. The oven wouldn't work at all."
Ken went online to the Maytag website and learned the oven sensor was faulty. He called a repairman, who couldn't come out for ten days. Then, he ran across RepairClinic.com. Even with RepairClinic.com's overnight part shipping service, the part would not arrive in time for him to repair the oven. So he and his wife changed their Thanksgiving plans to a potluck, ordered the oven sensor from RepairClinic.com, and Ken later made the repair by removing two screws and replacing the temperature sensor.
"RepairClinic.com is the best appliance repair and parts site I've seen," says Ken. "I had never fixed an appliance before, and without RepairClinic.com, I wouldn't have known what to do. It's a great way to save money and time. I highly recommend it."
Consumers can save time and money with appliance repair DIY
Even if it's not obvious what's wrong with the appliance, or which Maytag part is needed, RepairClinic.com, the company's online automated expert, can diagnose the problem. Consumers simply enter the symptoms online and the RepairGuru determines what needs fixing and which parts are required. With RepairClinic.com, homeowners can get their appliances repaired faster, cheaper and with less inconvenience than by calling a technician.
"Nowadays, there are many Maytag appliance problems that can be fixed by consumers, and we can provide the online advice and appliance parts they need to do the job," says Chris Hall, a former appliance technician himself and a founder of RepairClinic.com.
RepairClinic.com makes it easy to find the right appliance part
The RepairClinic.com PartDetective identifies the right appliance part for any repair, and provides a photo, pricing and availability, avoiding complicated "exploded diagrams." Consumers who visit RepairClinic.com can also sign up for a monthly newsletter that provides valuable maintenance tips, straight from the experts. A monthly appliance repair calendar is available, here: http://www.repairclinic.com/0097.asp.
About RepairClinic.com®
RepairClinic.com was founded in 1999 with the idea that armed with the right advice, tools and parts, savvy consumers can extend the life of their appliances, save money, and conserve the environment. Consumers can visit http://www.RepairClinic.com for free appliance-repair help, or call a customer service representative at (800) 269-2609 for help locating specific appliance parts.
###