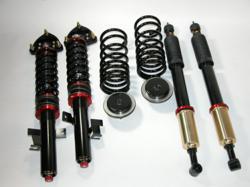 CorkSport began development of the new coilovers in 2010. After two years of development and testing, we are pleased to release our new top of the line coilover kit for Mazda 3 and Mazdaspeed 3
Vancouver, WA (PRWEB) July 31, 2012
CorkSport, a leading manufacturer and reseller of Mazda aftermarket performance parts, is pleased to announce the release of CorkSport Coilovers for the Mazda 3 and Mazdaspeed 3.
Offering superior handling without sacrificing comfort, the CorkSport Coilovers feature 15 way adjustable dampening settings and full length adjustment that can be lowered -.8" to -2.5" in order to meet every drivers handling desires.
The CorkSport Mazda 3 and Mazdaspeed 3 Coilover Kit is manufactured using chrome silicon metal alloy with a cool bend process that give the springs strong tensile strength while offering precision down to 10/100th of a kg.
The front springs have been designed using a linear 7k spring rate with helper springs for a more comfortable ride and include 45mm inverted gas filled dampers to maximize unsprung weight, reduce side loading and increase efficiency.
Also included with the front coilovers are front adjustable camber plates to replace the factory rubber mounts. The camber plates add additional adjustability with up to 3 degrees of negative camber and are designed with built in M10 studs for easier installation and solid pillow ball bearings and housing to reduce unwanted upper strut mount deflection.
The rears have been designed using a progressive style spring to compliment the linear fronts for improved handling and steering control. The pillowball mounts have been designed to provide additional feedback by eliminating the deflection in the OEM rubber bushings. A spherical bearing is used in place of the rubber bushing for improved tire grip and more accurate wheel alignment.
The CorkSport Coilovers have been fully tested and every damper has been tested for compression and rebound. They are also fully rebuildable, making them a long-term solution for your suspension set-up.
For more information about this product or to purchase a set today, please visit CorkSport's online catalog at http://www.corksport.com/corksport-mazdaspeed-3-mazda-3-coilover-suspension-kit.html
About CorkSport:
CorkSport, a leading manufacturer and reseller of Mazda aftermarket performance enhancement products, was founded in 1998 by Derrick Ambrose and Richard Harris. CorkSport's leading technology and innovation, lean manufacturing expertise, and global distribution network deliver world-class products, brands and service at a competitive cost. The company is headquartered in Vancouver, Washington and has dedicated itself to offering high level performance products and support for Mazda vehicles. Today, CorkSport is among the oldest of the aftermarket parts manufacturers in the United States exclusively serving the Mazda market. Visit CorkSport online at http://www.corksport.com