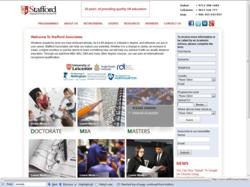 MBA programmes offered by Stafford can enhance a professionals' ability to execute appropriate solutions in any business environment.
(PRWEB) June 22, 2013
Professionals in Dubai hoping for a rewarding career can get enrolled for the distance MBA courses of Stafford. The organisation has been at the forefront of distance education in the Middle East since its inception in 1993. They are currently offering MBA's in a range of specialisations in collaboration with reputable UK institutes of higher education.
MBA programmes offered by Stafford can enhance a professionals' ability to execute appropriate solutions in any business environment. Although the duration of the programme is 18-24 months, it can be extended to suit the individual requirements of students. The flexible schedule of distance education programmes is a major advantage for professionals who lack time.
In collaboration with University of Northampton, Stafford offer an MBA Plus. The core programme is accompanied by a series of added value elements which include the Northampton Business School (NBS) MBA Plus annual conference, the NBS MBA plus business showcase, the NBS MBA plus European business event, Chartered Management Institute membership, Chartered Institute of Marketing introductory certificate and Prince 2 foundation and practitioner award. Stafford also offer MBA programmes from other partner UK Universities with specialisations such as Employee Relations, Finance, Information Technology Management, Marketing, Quality Management, Project Management, Human Resource Management, Management Consultancy, Law, Finance and Service Excellence.
The spectrum of MBA programmes available with Stafford calls on a broad range of expertise. The pursuant gains the ability to think strategically about business issues. They explore relevant management theories in conjunction with their application in a real world environment. Most importantly, they earn the prowess of working efficiently in a multi-cultural work environment.
Regular professionals can pursue online MBA courses to earn additional skills. Along with the MBA courses, Stafford also provides MSc, PG diploma, diploma and PG certificate courses. Professionals in Dubai and other cities in the Middle East can also join their weekend workshops which enables them to have face-to-face interaction with instructors and fellow students.
About Stafford
Stafford is a prominent distance learning provider with headquarters in Dubai. They enable students in the Middle East to earn a globally recognised qualification, making them capable of working in many positions worldwide. The organisation is focused on assisting professionals with quality distance learning thus helping to accelerate their careers through independent study. For more information, click here.
Contact Information
Stafford – Dubai
P.O. Box 500358. Block 6, F 01
Dubai – UAE
Ph.: +971 4 3901685
Fax: +971 4 3664574
Email: info(at)stafford(dot)ae
Website: http://www.stafford.ae/