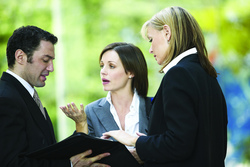 One of our primary objectives at MBA Focus is to work alongside career services offices at our partner schools and help them provide the highest level of career services to their students
Columbus, Ohio (PRWEB) April 10, 2009
MBA Focus, a leader in technology and services for recruiting MBA talent, is addressing the sluggish job market for MBA graduates by offering companies that are looking to hire top MBA talent for "just-in-time" needs complimentary access to its acclaimed Global Focus® Web-based recruiting system now through May 31, 2009.
Global Focus offers subscribers the tools they need to recruit business leaders from the world's top-ranked MBA schools. It includes access to student resumes from the top-ranked MBA programs in North America, Europe and Asia - including nearly all U.S. News 2008 top 20 "best business schools."
Companies that take advantage of MBA Focus's one-time offer for free access to Global Focus gain access to the resumes of nearly 27,000 first- and second-year students who are in the top 60-plus MBA programs. They can use a number of Global Focus e-mail marketing tools to communicate with students at each campus and help brand their organizations. They can even post job opportunities to students through MBA Focus' new MultiPost™ job distribution system - a first-of-its-kind technology that enables employers to simultaneously post jobs to some or all business schools in the MBA Focus network rather than having to complete a separate job posting for each school.
"One of our primary objectives at MBA Focus is to work alongside career services offices at our partner schools and help them provide the highest level of career services to their students," said MBA Focus chief executive officer Gregory A. Ruf. "In these trying economic times, we must work even harder with our partner programs to find opportunities for their students. In response, we have taken the extraordinary step of offering employers access to our flagship product, Global Focus."
Beyond May, Global Focus is available through subscription only. Employers also can independently purchase access to MultiPost job posting services and to resume databases at individual schools in the MBA Focus network of MBA schools at http://www.mbafocus.com.
###