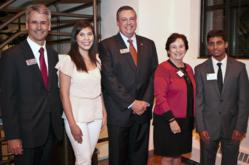 Chicago, IL (PRWEB) September 27, 2012
On September 5, 2012, MB Financial Bank and Dominican University hosted a reception inaugurating a new community service initiative - the MB Fellows Program. Two Dominican University sophomores, Asad Azam, an accounting major from Elmhurst, and Rocio Aguilar, a Berwyn native majoring in both economics and biology, are this year's program recipients. Mitch Feiger, President and CEO of MB Financial Bank, Tom Prothero, Senior Vice President, Operations, MB Financial Bank, and Dominican University President Donna Carroll presented each a $5,000 check toward their tuition during the ceremony at the MB banking center in River Forest, Ill.
The MB Fellows Program is a joint effort of two great local institutions - MB and Dominican University. For MB, the program represents its ongoing commitment to cultivate a workforce reflecting the communities it serves. And for Dominican University, it's an opportunity to support the education of a talented and culturally diverse undergraduate student body. Of course, for participating students it is all this – and much, much more.
This multi-tiered program allows for the sustained professional development and personal growth of participants far beyond the classroom or even on the job.
As an MB Fellow each student will receive:

A $5,000 scholarship each year for three years (sophomore, junior, senior)
Mentoring from MB Financial Bank senior officers for three years
Opportunities for part-time employment at an MB banking center during the
school term

Paid summer internships with MB before their junior and senior years in one of several corporate areas
In addition, MB Fellows will work toward completing Dominican's Leadership Certificate Program. Then, after graduation, they'll be eligible to apply for full time employment and entrance into MB's own Leadership Development Program.
"The MB Fellows scholarship represents a unique opportunity for Dominican students to enhance their classroom learning while partnering with our organization in a hands-on environment," says John Sassaris, senior vice president, commercial banking division manager, MB Financial Bank. "For those who do well in the program and have the desire to move forward, the ultimate goal is a rewarding career in financial services. Our hope is that the MB Fellows program will continue to deepen the already strong relationship between our two fine organizations."
MB Financial Bank's holding company, MB Financial, Inc., is traded on the NASDAQ as "MBFI." MB Financial has approximately $10 billion in assets. MB Financial Bank (http://www.mbfinancial.com) is a locally-operated financial institution that has been delivering competitive personalized service for over 100 years to businesses and individuals who live and work in the Chicago metropolitan area.