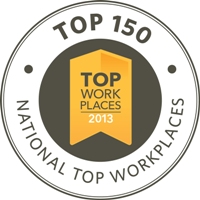 Such a great work environment! New ideas are always welcomed and encouraged, and everyone has a voice.
Chicago, IL (PRWEB) February 13, 2013
MB Financial Bank announced today that it has been named one of the top 150 National Top Workplaces by WorkplaceDynamics. MB Financial Bank, with more than 1,700 employees participated in a regional Chicago area top workplaces program and was ranked #10 in the large company category.
The National Top Workplaces list was determined solely by feedback gathered through an objective employee survey. The survey was conducted by WorkplaceDynamics, LLP, the leading on-demand employee survey provider, in conjunction with 30 leading regional newspapers. MB Financial Bank participated in Chicago Tribune's Top Workplaces 2012 program.
The survey uses a proprietary set of 22 questions to rank companies. The survey data showed that employees most want to work at companies with high levels of organizational health. Companies that set a clear direction for their future; execute well; and bring real meaning to work are the healthiest.
Employees speak for themselves at MB Financial Bank.
"Every day I work with outstanding banking professionals who believe in the company and its leadership and strive to make a difference. I am also encouraged to think creatively and make decisions," observed one of the MB employees who participated in the WorkplaceDynamics survey. Another mentioned, "Such a great work environment! New ideas are always welcomed and encouraged, and everyone has a voice."
This is exactly the kind of empowering climate the folks at WorkplaceDynamics wanted to acknowledge and inspire when they established the National Top Workplaces survey in 2006. As the company explains on its Web site (http://www.topworkplaces.com), "We set out to recognize the very best organizations through Top Workplaces lists. We hoped that by championing good practice, we could encourage more companies to work better. Now, almost a decade later, thousands of organizations participate in the program with a million people completing the employee survey annually."
About MB Financial Bank
MB Financial Bank's holding company, MB Financial, Inc., is traded on the NASDAQ as "MBFI." MB Financial has approximately $9.6 billion in assets. MB Financial Bank is a locally-operated financial institution that has been delivering competitive personalized service for over 100 years to businesses and individuals who live and work in the Chicago metropolitan area.
About WorkplaceDynamics
Founded in 2006, WorkplaceDynamics is the fastest-growing employee survey provider in the United States. Based on their "on-demand" employee survey, last year they surveyed more than 5,000 organizations, polled 1.7 million people and handled over a million employee responses.