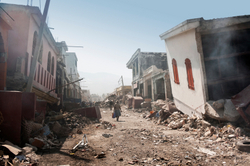 I hope that other companies will follow our lead and help one of the poorest nations in our hemisphere recover
Delray Beach, Florida (PRWEB) April 15, 2010
MBMI Steel Buildings will donate $200 to the Clinton Bush Haiti Fund for every building sold. Specifically, the donation will go directly to help the areas most impacted. The largest recorded earthquake in Haiti's history rocked the country on January 12th, 2010. This quake was responsible for killing over 218,000 people and causing over 14 billion dollars in damage. There are thousands who are left with no choice but to live in unsafe tent cities where mudslides, tropical storms and disease are only a few of the potential life threatening issues they face. MBMI Steel Buildings is giving back and helping a country in dire need.
MBMI is a design and engineering firm that specializes in steel buildings. MBMI delivers a top quality building accompanied by excellent customer service. The combination makes MBMI one of America's best steel building values. High quality material, superb engineering and precise fabrication make MBMI's product the choice of professionals throughout the building industry. An A+ rating with the Better Business Bureau with zero complaints since its inception in 2002 is a result of MBMI's commitment to excellence.
President Barack Obama asked President Bill Clinton and President George W. Bush to help raise funds for immediate relief. From this request, the Clinton Bush Haiti Fund (CBHF) was created which is nongovernmental and a nonprofit organization. The Fund is focused on providing immediate relief to the hardest hit areas as well as long-term efforts to help rebuild Haiti. CBHF's commitment to Haiti includes helping reconstruct their infrastructure, provide better schooling, generate clean renewable energy and improve access to heath care. Their efforts are commendable and MBMI feels their donation will be going towards a great cause.
MBMI hopes that their initiative to donate this money will help inspire other companies to do the same. They want to be sure that the Haitian people impacted by this devastating natural disaster are helped as quickly as possible. The longer we wait to help, the more difficult it will be for Haiti to recover. During this trying time, Haiti and its people need all the support possible. The general manager of MBMI, Brian Fabricant, is quoted as saying "I hope that other companies will follow our lead and help one of the poorest nations in our hemisphere recover."
# # #