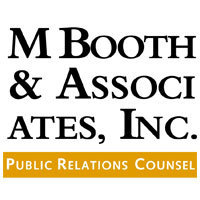 That's the foundation of our new practice. We know how to communicate a brand's functional benefits in a way that intersects with the new 'better for you' consumer lifestyle
New York, NY (PRWEB) October 30, 2008
M Booth & Associates today launched a new public relations practice to help brands frame and communicate "better for you" benefits for consumer products that enhance personal and family health and well-being. Better For You spotlights M Booth's recognized ability to apply creative insights and strategic direction to build power brands in the consumer and healthcare arenas.
The practice responds to the accelerating consumer demand for products that enhance quality of life in areas such as food and nutrition, beverages, baby care, pet care, beauty, oral care, eye care and home environment.
"Consumers crave products that improve their own health and that of their families," said agency president Margaret Booth. "Health and wellness products are the fastest-growing segment of the packaged goods arena today because consumers are flocking to their 'better for you' benefits.
Booth's new practice focuses on communicating a brand's 'better for you' message to meet health-savvy consumers' burgeoning wellness needs," she said.
"Many products' wellness claims are backed by science that can tip the scales in a purchase decision," she said. "By marrying our consumer insights to our depth in science, health and medicine, the practice offers a unique perspective on product positioning."
Booth's Better For You practice has tapped an Advisory Board of prominent experts in consumer health, well-being and lifestyle to guide it in framing and positioning product health benefits. Advisors include Sandra Woodruff, registered and licensed dietitian/nutritionist and best-selling author; health and nutrition correspondent and expert Amy Hendel; Charles Stuart Platkin, JD, MPH, a leading nutrition and public health advocate; Michael George, a fitness expert and personal trainer; and Bryan Vartabedian, M.D., a pediatric gastroenterologist and author.
"Today's active lifestyles encourage consumers to eat better and watch their diets more closely than ever before," said Advisory Board member Sandra Woodruff and author of The Best Kept Secrets of Healthy Cooking. "Many consumers are trying to reduce health risks by modifying their diet and decreasing their calorie intake - whether eating at home or at restaurants. The new M Booth 'Better For You' practice help brands highlight the real health benefits of products while also educating consumers about what is really good for them."
To better quantify the growth in consumer demand for products that offer health benefits, M Booth released the findings from its first proprietary "Better for You Index," which evaluates the importance consumers assign to "better for you" brand benefits. According to the survey, three-quarters (75%) of adults 18 years and older say that when it comes to making purchasing decisions, they are more health-conscious now than two years ago.
The survey also found that products such as pasta, oral care products, dairy, cereals, beverage and packaged foods, are the top five categories in which consumers consider health benefits most important when making a purchasing decision. Snacks, desserts and frozen meals followed in importance, with fast food, makeup and baby products ranking as least important, the "Better for You Index" found.
"The days are long gone when consumers just picked up a product without reading the label and tossed it in their shopping cart," said Better For You Advisory Board Member and public health advocate Charles Stuart Platkin, "This is good news for the food industry as well as consumers, specifically because it encourages dialogue regarding 'better for you' benefits."
Women Have Health on Their Minds:
The survey, conducted by Harris Interactive in July 2008, also discovered that women, more than men, are increasingly health-conscious, especially when it comes to purchases. Adults on the East and West Coasts admitted to being more health-conscious than did those in the Midwest and the South.
"Most purchase decisions are made by women who are looking for small and simple changes to benefit their families' health and well-being. Booth's years of experience in both consumer products and health have given us deep insights into reaching and motivating women," said Booth. "That's the foundation of our new practice. We know how to communicate a brand's functional benefits in a way that intersects with the new 'better for you' consumer lifestyle," she added.
The practice is co-led by Senior Vice Presidents and PR agency veterans Joyce Yaeger and Rich Goldblatt, who have extensive knowledge in consumer health and wellness. M Booth has been creating successful campaigns for brands in the family and personal health arenas for more than a decade, and its new practice is designed to help consumers intelligently navigate their way through what can be a jumble of messages.
M Booth's breadth and depth in the area of "better for you" brands includes work for Unilever's margarines, spreads and personal-care products, Ronzoni, Johnson & Johnson Vision Care, Alberto Culver's Mrs. Dash, Birds Eye Foods, Pfizer's Relpax and McNeil's Tylenol PM.
About M Booth & Associates:
M Booth & Associates, http://www.mbooth.com, is the communications agency of choice for championing power brands. With a staff of 70, the agency offers expertise in consumer packaged goods, corporate, fashion & retail, health-care, not-for-profit/corporate philanthropy, and travel & lifestyle - and a network of 40 affiliate agencies in North America, Europe, Asia and Latin America. The agency is also a founding member of CONVERGE™, a network of leading mid-sized agencies in the United States.
###