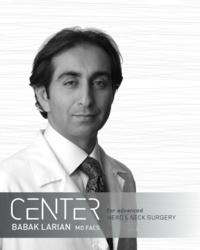 Salivary gland cancer is a rare and complex form of cancer. Survival rate is generally dependent on the stage of cancer upon diagnosis and the location and size of the tumor. It is very unfortunate that we have lost such a great music icon to the disease
Los Angeles, California (PRWEB) May 07, 2012
After a three-year battle with salivary gland cancer, Beastie Boys co-founder, Adam Yauch, also known as MCA, has died at the age of 47. Yauch was diagnosed in 2009 after his doctors discovered a tumor in his salivary gland.
Last year, Yauch announced he was optimistic about treatment for his cancer, but was not yet cancer-free.
"Salivary gland cancer is a rare and complex form of cancer. Survival rate is generally dependent on the stage of cancer upon diagnosis and the location and size of the tumor. It is very unfortunate that we have lost such a great music icon to the disease," said Beverly Hills head and neck cancer specialist Dr. Babak Larian.
According to the National Cancer Institute, salivary gland cancer only accounts for 3% to 5% of overall head and neck cancer diagnoses.
This form of cancer begins in the salivary glands in the head. In almost 80% of cases, the tumors begin on the parotid glands, with approximately 10% occurring in the submandibular, and the remainder forming in the sublingual glands and minor glands. While not all salivary gland tumors are cancerous, the most common benign tumor (Pleomorphic Adenoma) has the potential of turning into a very aggressive cancer if not removed. Dr. Larian often suggests the removal of these benign tumors so that it does not become cancerous.
When surgical removal of a salivary gland is needed, patients should seek out a specialist to ensure the most advanced and minimally invasive techniques are used. Dr. Larian is a highly respected ear, nose and throat specialist in Los Angeles who performs parotidectomy and submandibular gland resection surgeries for patients with salivary gland tumors.
For more information on salivary gland tumors, please visit http://www.larianmd.com/areas-of-practice/salivary-gland.html.
Dr. Babak Larian, the Chairman and the Director of the CENTER for Advanced Head & Neck Surgery in Los Angeles, is a highly experienced and reputable, board-certified ear, head and neck surgeon, specializing in ear, nose and throat surgery. Dr. Larian is nationally renowned for his expertise in minimally invasive surgery techniques in the treatment of sinus, thyroid, parathyroid, salivary glands and throat disorders.
For more information about the CENTER please visit http://www.LarianMD.com.