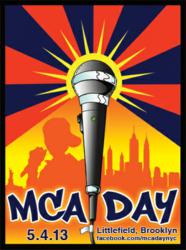 Like a lot of people the Beastie Boys became the soundtrack to my life
Brooklyn, NY (PRWEB) April 23, 2013
When Mike Kearney of Boston, MA heard of the sudden passing of Adam Yauch, AKA "MCA" of the Beastie Boys on May 4th, 2012, like many fans around the globe, he was rocked to his core. While Kearney classifies himself as a huge fan of the group, finding a way to do something meaningful became more about self-discovery.
"I felt this tremendous void. Like a lot of people the Beastie Boys became the soundtrack to my life. I started to realize there were a lot of people sharing and struggling with the same feelings. I wanted to do something, but I wasn't sure what to do and how to do it," said Kearney.
The "how" became meaningless to Kearney and within days, using only Facebook and Twitter, Kearney had mobilized fans looking for an outlet to express their gratitude to Yauch and "MCA Day" was born. The event held in Union Square in 2012 was as far as you can get from a structured event. Kearney set up a 6-foot table, a giant boombox and some easels with notepads and markers for fans to write their dedications down with the hopes that at least a few people would show.
The event was a huge success attracting artists, musicians, dancers, diehards fans from across the country and even Adam Horovitz (Ad-Rock) of the Beastie Boys.
A year later, and a year stronger MCA Day 2013 is set to invade Littlefield, a performance and art space located at 622 Degraw Street in Brooklyn, NY on Saturday, May 4th, 2013 from 11:00AM – 4:00PM. The event is free to the public and is meant to celebrate Yauch's life-long contributions and B-Boy culture.
Art and visual elements are the cornerstone of MCA Day and there will be no shortage with rare Beastie Boys photography by Glen E. Friedman & Sunny Bak and artwork by Brooklyn artist Mr. Kaves. The event will also play host to several fan-driven exhibits where attendees can submit their own works. A video exhibit where fans can submit footage from the event that will later be edited into an event documentary and the Keep It On and On, fan-sourced installation (http://keepitonandon.com/) are among a few.
Music is a must and Beastie Boy mixes will be in full effect with the Rock Steady Crew's own DJ JS-1 , Pat Poon, Operator EMC and DJ Skizz from the World Famous Halftime Radio Show on WNYU FM 89.1. Breakdancers from the Legendary Dynamic Rockers will be on hand as well to round off the elements of hip-hop, a genre revolutionized by Yauch and the Beastie Boys.
The event is open and free to everyone of any age.
DETAILS: Saturday, May 4th, 2013 from 11:00AM – 4:00PM, Littlefield Brooklyn, NY
CONNECT: @MCADAYNYC
###