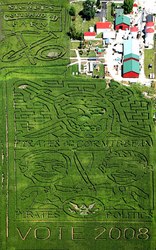 There is nothing like planting a seed, nurturing it and harvesting it.
Crest Hill, Illinois (PRWEB) August 13, 2008
The hot political landscape is now carved into a cornfield at the Siegel's Cottonwood Farm in the Chicago area.
2007's Corn maze was a hit with the theme "Pirates In The Cornibbean" (as seen on national TV). This year, the Siegel's decided to add "Pirates and Politics" to reflect the unprecedented attention given to this year's elections.
The corn maze features candidates John McCain and Barack Obama yielding pirate swords and fighting over the Presidential Seal. Guests can vote by turning right and traveling through John McCain or turn left and travel through Barack Obama. Guests will receive a flag with the image of the candidates they voted for. Opening day for Pumpkin Fest 2008 is Sept 27th. The Siegel's will be conducting a "straw" poll for candidates. Winners of the straw poll can hang their signs for the duration of the season. Agritainment is how the Siegel's subsidize their working farm. After the Pumpkin Fest is over (Halloween), the corn is harvested and used as feed. The pumpkin field is harvested by guests (one of the few authentic u-pick Pumpkin Fields in the Chicago Land area).
Siegel's Cottonwood Farm, 100 Years and Still Growing
While most people are winding their summers down and preparing to send their kids back to school, the Siegel's are wishing there were more hours in the day. Paul, Sue, Zach and Kaity (fourth generation) are currently running their produce stands, converting the garden center from summer to fall mode and preparing the farm for fall. Fall for most farmers means harvest. Fall for the Siegel's first means preparing the farm for some guests, tens of thousands of them, and then harvesting.
The Siegel farm has a history of adapting to market changes. Frank G Siegel bought the farm in 1909. Most farms were self sustaining at the time, which is why the first 40 acres was deemed enough land for a family to survive. Cash crops became popular and farmers diversified. The Siegel's like other farmers in the area adapted quickly. Over the past 100 years the farm has always grown corn, soy beans and various vegetables but the animals varied. Early on there were dairy cows, chickens and pigs. In the sixties Francis (Paul's father) wanted to better utilize his workforce, his seven children, so the pigs left, some dairy cows remained and 2200 more chickens arrived. The Siegel's wholesale egg business was born and after just a few years they had approximately 6800 chickens. They sold directly to consumers cutting out middlemen well before it was fashionable. The eggs were either delivered or families came directly to the farm to purchase them.
In 1976 a neighbor approached Francis to farm his property, Francis was not planning on expanding, but decided Paul and his brother were up to the task. They worked various acres together for 18 years, including sod busting pastureland on the Stateville Prison property. Paul and his brother sold grain bins and dryers from the 70's through the 80's until the farm depression struck in 1983. All the while the garden center was expanding selling sweet corn and in an effort to extend the selling season, in 1988 they began growing pumpkins and squash. Changes in the economy brought a new business Agritainment. Many small farms struggled with rising costs and how to maintain their farm and heritage, while farms around them are turned into sub-divisions and strip malls. Many farmers now took jobs off their farms. Agritainment was an opportunity for the Siegel's and once again, like their ancestors before them, with a lot of hard work and excellent business acumen adapted to change quickly and effectively.
In 1990 they had their first haunted barn and a small straw maze and petting zoo; visitors kept coming so the Siegel's kept expanding. The straw maze has evolved by adding a 20 acre award winning Corn maze. The tiny one room haunted barn is now over 3000 square feet of family friendly fun. In 1996 Statesville Haunted Prison Inc. was developed as a separate enterprise. Statesville Haunted Prison Inc. is a night time adult attraction. 16,000 square feet of pure terror and was voted Chicago lands #1 Haunted Attraction in 2000, 2001, 2002, 2003, 2004, 2005, 2006 and 2007.
The Award winning corn mazes and Statesville Haunted Prison are not the only attractions. The Siegel's Farm converts their 38 acre working farm, to 38 acres of family fun. There are animated giants, train rides for all ages, play lands, petting zoo, pony rides, Hay Rack ride, Giant slide and dwarf's slide. This year they added a gem mine. Little miners take their 'claim" and pan in a real sluice. Every miner will take home a treasurer. Also new this year The Spooky Spiral, enter this churning tunnel if you dare and get a kick out of the new animated character there to greet you if you get through. The Siegel's will supply a map to their guests, so they can manage their way through the farm and not miss a single attraction. Food and the gift shop are attractions of their own bring your appetite and bring a jar of jam or fresh pie home with you.
The fall also brings tens of thousands of school children. The Siegel's Educational field trips: "Field Trip to a Working Farm" school tour program has been operating for over 20 years. School children from all over the area love to go to class with Farmer Paul and learn about pollination and where food really comes from. The children also learn the history of the farm that will celebrate its centennial in 2009. After class the kids enjoy the attractions on the farm as well as take the hay rack ride out to the real Pumpkin Field traveling through the towering Ten foot high walls of corn. Farmer Paul loves to share his passion for growing plants and food with the children and all those visiting the farm. The term "Edutainment" has been attributed to such activities, but for the Siegel's it's just what comes naturally. As Paul was quoted in Time Magazine "There is nothing like planting a seed, nurturing it and harvesting it."
Instead of having your children read about farms, animals and Farmers, pack them all in the car and take the drive out to Siegel's Cottonwood Farm. Meet the Family, spend the day and experience it for yourself. You will be sure to make it a family tradition.
Contact:
Farmer Paul Siegel
(815) 693-2828
http://www.ourpumpkinfest.com
17250 S Weber Rd.
Crest Hill, Illinois 60441
###