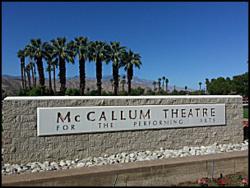 This is the sort of accolade for a venerated virtuoso that brings the cream of the entertainment industry to the valley.
Palm Desert, CA (PRWEB) January 18, 2013
Brad Schmett, Broker Associate with Luxury Homes by Keller Williams, today announced that the Palm Desert area real estate community is looking forward to one of the busiest weeks of the season thanks to the January 21 event at the McCallum Theatre. "They're Playing His Songs: The Music of Marvin Hamlisch" is expected to be a sold out gala with an audience of show business and musical elite in attendance as the valley pays homage to the brilliance of composer extraordinaire, the late Marvin Hamlisch.
Hamlisch is known internationally for his EGOT (Emmy, Grammy, Oscar and Tony) award winning talents with hits including The Way We Were, A Chorus Line, They're Playing Our Song, The Sting, The Goodbye Girl, and many many more. The McCallum event is one in a long line of tributes planned for 2013, following the untimely death of Hamlisch at only 68 years of age in August of 2012. The beloved Maestro was one of New York's favorite sons but was just as adored in California.
Ed Yoe, a Palm Springs resident and owner of Edyoe.com worked closely with Hamlisch for 39 years and is very excited about the upcoming tribute commenting, "Marvin Hamlisch was a stand up fellow in every way. His creative genius was surpassed only by his integrity and concern for other people. He was, in every regard, one of the finest human beings I have ever known. I miss him every day and will never get over his loss." Hamlisch and Yoe collaborated on countless projects over nearly four decades, raising millions in charitable donations as well as entertaining throngs of fans.
Schmett, also a friend of Yoe, observes that, "This is the sort of accolade for a venerated virtuoso that brings the cream of the entertainment industry to the valley. The ones who don't already have a second home here usually start looking for one. The fresh air, sunshine and camaraderie attract everyone, but artists seem most sensitive to the creative vibes of the desert. We are always happy to be here for all of them. I know Ed has really been looking forward to this event for his dear old friend highlighted at the McCallum this month."
Be sure and get your tickets soon as the event is certain to be a sell-out. It is the perfect evening to enjoy a lovely dinner at one of the areas fine dining establishments before the event begins.
To find out more about investing in Palm Desert, CA real estate visit http://www.PalmDesertRealEstateInfo.com
About Luxury Homes by Keller Williams: Luxury Homes by Keller Williams – Palm Springs, is an exclusive, elite and sophisticated group of real estate consultants raising the bar for service in the upper-tier Palm Springs area residential real estate market.