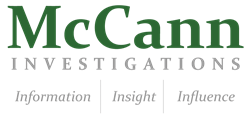 There is truth to the old saying ýou are the crowd you run with'.
Houston, TX (PRWEB) November 20, 2012
McCann Investigations, a Texas-based private investigations and computer forensics firm is pleased to announce the release of a new case study titled "Risks of Incomplete Background Investigations in Partnership". This case study highlights the potential risks of incomplete background investigations in partnerships.
In most cases of proposed partnerships, background investigations are inadequate in determining the risks that may be involved. Fraudsters and con-artists involved in business may not have criminal backgrounds themselves, but may have a criminal element in their associations. "It's important to understand who a person's associates are" says Daniel Weiss, Managing Partner and Licensed Private Investigator at McCann Investigations. " There is some truth to the old saying, ýou are the crowd you run with.
There is also the possibility that the potential partner is a "serial litigant". Serial litigants are individuals who abuse the legal process for their own profit or gain. Often they are well versed in laws and regulations and use them to target a company. These individuals will use the court system as a way to extort money from companies or individuals and often use serial litigation as a means to make a living. Without an in depth investigation of the partner's background, a long history of litigation would not be discovered.
While criminal associations and serial litigants can be the most serious partnership risks, there are also more common risks such as undisclosed information. A comprehensive background investigation can often reveal undisclosed business interests. These undisclosed interests should be investigated in order to determine the reason for the lack of disclosure. Further investigation could reveal failed business ventures including bankruptcies or judgments. Or the investigation could reveal a conflict of interests.
McCann Investigations traditional private investigative services emphasize corporate intelligence and due diligence for private equity firms as well as other companies who conduct business transactions that require executive background investigations. Not performing comprehensive background investigations prior to a merger, acquisition or partnership can result in dire consequences should they unwittingly involve themselves with serial fraudsters posing as legitimate business executives.
McCann's Comprehensive Background Investigations include:
Secretary of State Filings for a Corporation
Determination of all Owners and Officers for a Corporation
Criminal Background Checks of all Individuals Associated with Corporation
Civil Background Checks of Individuals Associated with Corporation
Social Media Footprint for Individuals
About McCann Investigations:
http://www.mccanninvestigations.com
Facebook: https://www.facebook.com/pages/McCann-Investigations/203760582969139
Call us toll-free at 800-713-7670
McCann Investigations is a full service private investigations firm that specializes in computer forensics (including mobile device forensics), digital debugging, network breach detection and remediation as well as traditional private investigations such as under cover work, surveillance and comprehensive background investigations.
McCann Investigations works with law firms, public and private companies, financial companies and individuals with cases such as divorce, child custody, fraud, embezzlement, digital debugging, intellectual property theft and network breach.