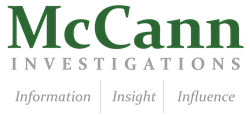 The digital forensic process is complex, and is different for every case
Dallas, TX (PRWEB) May 28, 2013
McCann Investigations, a Texas-based computer forensics firm released an article which outlines the process of digital forensic investigations. McCann's experienced team of digital forensics analysts follow a well-developed process of digital analysis to locate all evidence left in internet histories, emails, network traffic and data files to help clients in the Dallas/Ft. Worth area in gathering evidence in complex civil and criminal cases. All evidence found by taking the proper steps in digital analysis can be used as legal evidence in the courtroom should legal action become necessary.
A third party forensics analyst also ensures objectivity. Digital analyses performed by third parties significantly reduce the likelihood that evidence integrity can be questioned. Additionally, many computer crimes within a company (more than 80%) occur internally. Employees and former employees often steal proprietary data and intellectual property either for themselves or for competitors. Using a licensed third-party digital forensics analyst ensures that there will be no bias in the findings of the investigation.
"The digital forensic process is complex and is different for every case." Says Daniel Weiss, Managing Partner of McCann Investigations. "Understanding the process is key to expectation setting for clients." Continued Weiss
McCann Investigations Dallas Division specializes in several case types including fraud, embezzlement, theft, non compete enforcement, digital debugging, data breach incident response and complex family, civil and criminal.
About McCann Investigations
McCann Investigations is a Texas-based private investigations practice focused on comprehensive investigations incorporating digital forensics, surveillance, undercover work and backgrounds for clients in various case types. Case types include intellectual property theft, non compete enforcement, fraud, embezzlement and family law. McCann Investigators are experts in the latest computer forensics tools and are licensed with the state of Texas. McCann computer forensics examiners have provided expert testimony and reporting in hundreds of cases across the state.
Through digital investigations, McCann also delivers digital debugging and data breach and incident response services. In cases where there is suspected external or internal hacking with the installation of malware of spyware or when data and privacy loss has occurred due to network breach, McCann investigations computer forensics and IT security experts use cutting-edge tools to document, evaluate and respond to the incident. McCann works with clients to analyze their IT networks and put protocols in place to secure the network.
McCann Investigations utilizes multiple tools in their comprehensive investigations including digital investigations, digital debugging, corporate investigations, litigation support, IT security audit and oversight, complex family, civil and criminal.
http://www.mccanninvestigations.com
Facebook: http://www.facebook.com/McCannInvestigations
Twitter: @mccanngi