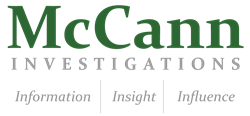 Houston, TX (PRWEB) May 02, 2013
McCann Investigations Houston Division, a Texas-based private investigations firm is pleased to announce a new service offering - Corporate Intelligence Services for its clients in the Houston area. McCann specializes in corporate intelligence services that encompass various aspects of due diligence practices including background investigations focused not only on criminal backgrounds, but also on civil issues which are not only associated with the subject, but also with any corporate entities associated with the subject. Corporate intelligence services provide clients with a more complete picture of a business partner or company involved in a merger or acquisition.
Our practice is focused on buyer side business corporate intelligence that helps our clients make better risked weighted decisions. Most due diligence teams simply focus on the diligence items of the corporation, such as financial due diligence, operations due diligence, and client due diligence. McCann's corporate intelligence services expand the basic due diligence to cover the entity itself in association with the partners and executives. An area not typically covered in the due diligence process is imaging of the "to-be-acquired" company's IT infrastructure. The imaging and collection of data on the day of the acquisition can reveal insights into the activities of key personnel prior to the transaction. Whether it is undisclosed corporate interests, or the exporting of proprietary information, properly imaging the IT Infrastructure (including servers, desktops and laptops) in a forensically sound manner by licensed and accredited experts ensures that any evidence of conspiracy will be available for use in litigation, should the need arise.
"Corporate Intelligence is key to understanding who you're really doing business with." says Daniel Weiss, Managing Partner at McCann Investigations. "Not thoroughly performing a complete background investigations could make you the target of a con artist or 'serial litigant'" continued Weiss.
About McCann Investigations
McCann Investigations is a Texas-based private investigations practice focused on comprehensive investigations incorporating digital forensics, surveillance, undercover work and backgrounds for clients in various case types. Case types include intellectual property theft, non compete enforcement, fraud, embezzlement and family law. McCann Investigators are experts in the latest computer forensics tools and are licensed with the state of Texas. McCann computer forensics examiners have provided expert testimony and reporting in hundreds of cases across the state.
Through digital investigations, McCann also delivers digital debugging and data breach and incident response services. In cases where there is suspected external or internal hacking with the installation of malware of spyware or when data and privacy loss has occurred due to network breach, McCann investigations computer forensics and IT security experts use cutting-edge tools to document, evaluate and respond to the incident. McCann works with clients to analyze their IT networks and put protocols in place to secure the network.
McCann Investigations utilizes multiple tools in their comprehensive investigations including digital investigations, digital debugging, corporate investigations, litigation support, IT security audit and oversight, complex family, civil and criminal.
http://www.mccanninvestigations.com
Facebook: http://www.facebook.com/McCannInvestigations
Twitter: @mccanngi