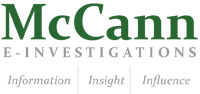 We have had cases where the senior CIO was diverting company funds to a personal account
Houston, TX (PRWEB) February 25, 2012
McCann E-Investigations (McCann EI), a Texas-based computer forensics firm released a white paper titled The Unchecked Power of the Senior Most IT Professional. This paper explores the complex issue of terminating the most senior IT professional, such as a CIO, CTO or Director of IT and what can go wrong and methods can be taken to contain the risk. Most company data is stored electronically, the senior IT professional holds an unmatched amount of power over all of the digital information, including passwords, intellectual property, client information, financial records, and sources of capital.
"We have had cases where the senior CIO was diverting company funds to a personal account." said Daniel Weiss, Partner at McCann E-Investigations. "It can be difficult to capture and document this evidence as the CIO has complete control of the company's IT network and the in depth knowledge to hide the evidence." continued Weiss.
The hostile CIO or CTO can cause tremendous damage to a company. These individuals possess all of the security information for the company and often have very little oversight from other C-level executives due to the technical nature of their work. A hostile employee with the right skill set can easily install malicious programs that can spy on the company network remotely or can be set to wreak havoc on the IT network at a later time. Often, the damage will not be noticed until it is already occurred.
Enlisting the services of a licensed computer forensics firm is key in gathering and documenting evidence of wrong doing in such a case. The culprit will be skilled and knowledgeable in hiding their tracks and therefore documenting the case can be difficult. However, documentation is key in providing expert testimony should the case enter the legal arena.
About McCann EI:
http://www.einvestigations.com
Twitter: @McCannEI or https://twitter.com/#!/McCannEI
Facebook: https://www.facebook.com/pages/McCann-Investigations/203760582969139
Call us toll-free at 800-713-7670
About McCann EI: McCann EI's Texas-based digital forensics team provides a one stop solution for your Electronically Stored Information (ESI) investigative needs. McCann EI's computer forensics, digital forensics, mobile forensics, and electronic discovery investigators serve law firms, private industry, and government with the same dedication and expertise that has had clients turning to McCann for over 25 years.
Regardless whether your ESI is trapped in personal, corporate, mobile, or network drives, McCann EI's computer forensics team is experienced in electronic discovery and recovering your digital files. Our investigators have the experience to provide expert witness computer forensic testimony in courts across Texas. McCann EI services Companies, Law Firms, and Individuals Statewide. Call us toll-free at 800-713-7670 or our Local Offices Austin Computer Forensics: 512-377-6142 Houston Computer Forensics: 832-628-4904 Dallas Computer Forensics: 214-329-9059 Lubbock Computer Forensics: 806-589-0320 Lufkin Computer Forensics: 936-585-4070 Brownsville Computer Forensics: 956-465-0849
Media Contact:
Malisa Vincenti, Marketing Manager
malisa(at)mccanninvestigations(dot)com
(713) 870-2475
###