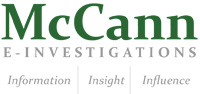 We can often get more evidence from a laptop or smart phone than we can in a full month of surveillance.
Houston, TX (PRWEB) March 10, 2012
McCann E-Investigations (McCann EI), a Texas-based computer forensics firm released a white paper titled Catching the Cheater in an Online Affair, a Private Investigator's View. This paper explores the complex issues of online communications which have given rise to the "online" or "digital" affair. The ease at which communication occurs has contributed to the rise of the online affair. Private Investigators are often hired to help gather evidence of infidelity. Because of the shift from physical evidence to digital evidence, it is imperative that the private investigator evolve to meet this demand. Todays' Private Investigator must be skilled and knowledgeable in tracking the suspected cheater's digital footprint. Computer Forensics has become a key tool in gathering and documenting the digital evidence of an affair. While investigations often still require the traditional tools such as surveillance and undercover work, Private Investigators must integrate other investigative techniques including computer forensics and social media mapping and monitoring.
"As Private Investigators, we have seen a paradigm shift in the industry moving from private investigations in the traditional sense, such as surveillance and undercover work to hybrid investigations that involve computer forensics and the gathering of digital evidence." said Daniel Weiss, Partner at McCann E-Investigations. "Most of the evidence of an affair is found in digital communications. We can often get more evidence from a laptop or smart phone than we can in a full month of surveillance." continued Weiss.
McCann Investigations provides a complete range of investigative services – from forensic examination to live monitoring to traditional surveillance and undercover investigations – all of which are performed in complete accordance with state laws. An expert investigator can be a huge advantage in litigation. McCann experts have provided testimony at hundreds of trials and have the necessary poise and expertise to handle intense cross-examinations and scrutiny from the bench. McCann Investigations help clients to ask the right questions, and their experts will deliver the answers that needed to win a case.
About McCann EI:
http://www.einvestigations.com
Twitter: @McCannEI or https://twitter.com/#!/McCannEI
Facebook: https://www.facebook.com/pages/McCann-Investigations/203760582969139
Call us toll-free at 800-713-7670
About McCann EI: McCann EI's Texas-based digital forensics team provides a one stop solution for your Electronically Stored Information (ESI) investigative needs. McCann EI's computer forensics, digital forensics, mobile forensics, and electronic discovery investigators serve law firms, private industry, and government with the same dedication and expertise that has had clients turning to McCann for over 25 years.
Regardless whether your ESI is trapped in personal, corporate, mobile, or network drives, McCann EI's computer forensics team is experienced in electronic discovery and recovering your digital files. Our investigators have the experience to provide expert witness computer forensic testimony in courts across Texas. McCann EI services Companies, Law Firms, and Individuals Statewide. Call us toll-free at 800-713-7670 or our Local Offices Austin Computer Forensics: 512-377-6142 Houston Computer Forensics: 832-628-4904 Dallas Computer Forensics: 214-329-9059 Lubbock Computer Forensics: 806-589-0320 Lufkin Computer Forensics: 936-585-4070 Brownsville Computer Forensics: 956-465-0849