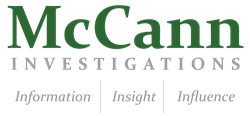 San Antonio, TX (PRWEB) April 20, 2013
McCann Investigations, a Texas-based computer forensics firm announced that it is now providing digital investigations focused on San Antonio digital investigations including computer and mobile device forensics as well as private investigations services including technology-centric surveillance, under cover work and background investigations.
McCann Investigations works with clients to gather digital evidence in a vast array of cases and practice areas. These areas involve complex civil, family and criminal cases and encompass multiple investigation techniques to provide comprehensive case solutions.
McCann Investigators have been helping clients for 28 years in both law enforcement and in the private arenas. McCann Investigations has evolved through the years embracing technology as a means to gather evidence in cases such as fraud, intellectual property theft, non compete enforcement, family law and complex civil and criminal cases. Because McCann Investigators have diverse backgrounds in both law enforcement and in the private sector, they understand the complexity of business and how their practice areas can best serve clients when they have issues.
McCann also works in incident response for clients in data breach and privacy loss cases. McCann Investigators not only help clients to discover, document and halt a data breach, they also help to put protocol in place to prevent future intrusions. The compromise of a company's sensitive data can not only cause financial loss, it can have a long standing negative effect on the company's reputation.
"Our licensed computer forensics examiners and private investigators have served law firms and small to mid-sized businesses across the state." Says Daniel Weiss, Managing Partner at McCann Investigations.
McCann Investigations Houston Division specializes in several case types including fraud, embezzlement, theft, non compete enforcement, digital debugging, data breach incident response and complex family, civil and criminal.
About McCann Investigations
McCann Investigations is a Texas-based private investigations practice focused on comprehensive investigations incorporating digital forensics, surveillance, undercover work and backgrounds for clients in various case types. Case types include intellectual property theft, non compete enforcement, fraud, embezzlement and family law. McCann Investigators are experts in the latest computer forensics tools and are licensed with the state of Texas. McCann computer forensics examiners have provided expert testimony and reporting in hundreds of cases across the state.
Through digital investigations, McCann also delivers digital debugging and data breach and incident response services. In cases where there is suspected external or internal hacking with the installation of malware of spyware or when data and privacy loss has occurred due to network breach, McCann investigations computer forensics and IT security experts use cutting-edge tools to document, evaluate and respond to the incident. McCann works with clients to analyze their IT networks and put protocols in place to secure the network.
McCann Investigations utilizes multiple tools in their comprehensive investigations including digital investigations, digital debugging, corporate investigations, litigation support, IT security audit and oversight, complex family, civil and criminal.
http://www.mccanninvestigations.com
Facebook: http://www.facebook.com/McCannInvestigations
Twitter: @mccanngi