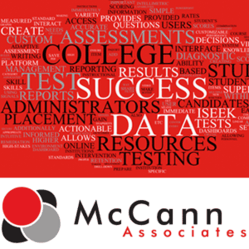 "We at McCann Associates and Vantage Learning have a passion for certification and testing, and we strive to constantly use our assessments in intelligent ways to help solve our clients' problems." -Keith Webster, President of McCann Associates
Yardley, Pa. (PRWEB) September 11, 2012
This week, members of McCann Associates, a leader in the deployment of high-stakes formative and diagnostic assessments for professional and educational purposes, will be demonstrating at the Europe Association of Test Publishers conference in Berlin, Germany. The conference, which is being held from Wednesday, September 12-–Friday, September 14, brings together test publishers and related organizations from around the world. McCann's Associates' submission, New Directions in Placement and Diagnostic Assessment using College Success and SPMS, was one of only nine abstracts accepted as a product demo for the E-ATP 2012 Conference.
Each of the approximately 90 abstracts submitted went through a blind review by at least three reviewers to ensure the selection of the most appropriate topics to meet the goals and objectives of Growing Talent in Europe: Gaining Advantage through Assessment. McCann's demonstration will focus on two complementary platforms that help guide student success in secondary and post-secondary education—College Success™ and the Student Progress Monitoring System®.
College Success™, from McCann Associates, is a fully customizable testing platform that assesses the knowledge and skills of incoming college students or exiting high school students in order to provide targeted feedback to address student needs. Vantage Learning — McCann's K–12 affiliate — has an Adaptive Learning Platform™ called the Student Progress Monitoring System®, which uses Computer Adaptive Testing for conducting continuous, cross-curricular student skill assessments. The platform can distinguish what a student knows—or doesn't know—down to the objective level and automatically deliver remediation resources for each student through a Personalized Adaptive Learning Plan™.
"Our platforms provide students with customized instruction and resources to help them prepare for college success, while helping educators identify specific subject areas where students need help based on in-depth, diagnostic feedback," explained Keith Webster, President of McCann Associates. "College Success™ and SPMS® deliver immediate assessment results that allow for multiple, real-time opportunities to make informed decisions and offer instant, individualized remediation."
Sister to the U.S. ATP conference, the E-ATP 2012 Conference will offer insight into the latest techniques and technologies being adopted in the assessment world.
"We're eager to share our technologies with a European audience in order to demonstrate how our tools can help students become college and career ready," continued Webster. "Like the Association itself, we at McCann Associates and Vantage Learning have a passion for certification and testing, and we strive to constantly use our assessments in intelligent ways to help solve our clients' problems."
Members from McCann will discuss the current state of placement and diagnostic assessments and the trends they see in statewide programs they deliver, and demonstrate each platform.
About McCann Associates
Since 1959, McCann Associates has been an innovative leader in the development and distribution of assessment, certification, business intelligence and personal development solutions. Leveraging advanced technology, McCann provides cost-effective tools via Software as a Service for Higher Education, Government and Public Sectors, Public Safety, Corporate HR and Employee Learning.
###