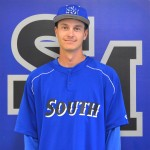 Tempe, AZ (PRWEB) June 17, 2015
With their professional season well under way, Major League Baseball (MLB) ran its annual first-year player draft. In this draft, all 30 MLB teams participate and choose from more then 1,200 amateur players nationally.
The first Maricopa student chosen in the 40 round draft was taken by the Pittsburgh Pirates. The team selected Chris Plitt, a right-handed pitcher from South Mountain Community College (SMCC). Plitt helped lead the SMCC Cougars to the 2014 Region Championship, earning 2nd Team All-Conference and All Region honors. He posted a 1.87 ERA with a 7-1 record as a freshman.
In all, seven current or former Maricopa Community Colleges players were selected from 1,215 total amateurs in the 2015 first-year player draft. See more 2015 AZ draft results coverage.
Chandler- Gilbert
Jacob McDavid, RHP, 6'5"/195 lbs.
Los Angeles Angels (via Oral Roberts)
Mesa
Tyler Carvalho, RHP, 5'11"/160 lbs.
Kansas City Royals
Paradise Valley
Noel Rodriguez, RHP, 6'3"/190 lbs.
Tampa Bay Rays
Phoenix
David Walker, 2B, 5'9"/180 lbs.
Chicago White Sox (via Grand Canyon)
Scottsdale
Zach Taylor, C, 6'1"/220 lbs.
Milwaukee Brewers
South Mountain
Chris Plitt, RHP, 6'4"/170 lbs.
Pittsburgh Pirates
Colton Frabasilio, OF, 6'2"/205 lbs.
Kansas City Royals (via St. Louis)
###
The Maricopa Community Colleges system includes 10 colleges – Chandler-Gilbert, Estrella Mountain, GateWay, Glendale, Mesa, Paradise Valley, Phoenix, Rio Salado, Scottsdale and South Mountain, two skill
centers, and several satellite campuses and business/ industry, technical and customized training institutes. It also includes the Maricopa Corporate College, which delivers market-relevant, customized
workforce solutions and education for students and employees in virtually every industry sector.
The Maricopa County Community College District is an EEO/AA institution and an equal opportunity employer of protected veterans and individuals with disabilities.