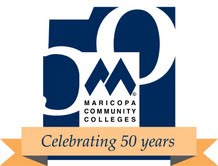 Improving our Learning Management System will help make our students more successful. --George Kahkedjian, Vice Chancellor for Information Technologies
Tempe, AZ (PRWEB) August 14, 2012
Following the successful implementation of a new Learning Management System (LMS) at Mesa Community College, the Maricopa Community Colleges have announced a schedule to make available the new LMS at eight more colleges at the start of the fall semester.
An LMS is software designed to allow a college to administer college courses online, as well as, among other things, to provide ways for students to obtain content and submit assignments online.
When fully implemented, the new system, Canvas by Instructure, will be used at nine of the ten Maricopa Community Colleges. Full implementation is expected to occur by the start of the first summer academic session in 2013, when the LMS now used at those eight colleges, Blackboard, will no longer be available.
Rio Salado College will continue to use its proprietary RioLearn LMS. Because Rio starts classes frequently, it has different LMS needs than do the nine other colleges.
"We've been very happy with our progress in rolling out Canvas at Mesa Community College and expanding its use at other colleges," said George Kahkedjian, Vice Chancellor for Information Technologies. "Improving our Learning Management System will help make our students more successful." Student success is a primary goal of the Maricopa Community Colleges.
Canvas was gradually rolled out at Mesa Community College starting with the spring 2012 semester. It has been enthusiastically received by the college's faculty because of its flexibility and ease of use. As of the Summer 2012 semester, it has been used exclusively as Mesa's LMS.
Beginning with the fall semester, which starts later this month, Canvas will be available alongside the Blackboard system at all eight campuses. Training programs for faculty members will be available throughout the fall 2012 and spring 2013 semesters.
The Maricopa County Community College District is one of the largest community college districts in the nation. It includes 10 regionally accredited colleges – Chandler-Gilbert Community College, Estrella Mountain Community College, GateWay Community College, Glendale Community College, Mesa Community College, Paradise Valley Community College, Phoenix College, Rio Salado College, Scottsdale Community College and South Mountain Community College. The District also includes the Maricopa Skill Center, Southwest Skill Center, several satellite campuses and business/industry; technical and customized training institutes.