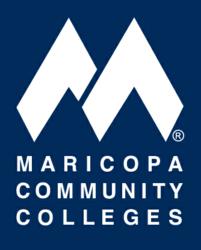 We are proud to recognize these students for their unwavering commitment to attaining their educational goals, becoming a member of the Maricopa family, and representing Maricopa in the larger community.
--Dr. Rufus Glasper, MCCCD Chancellor
Tempe, AZ (PRWEB) May 06, 2012
Leaders of the Maricopa Community Colleges today presented several awards to recognize student achievement and service during their annual Scholarship Reception and Academic Showcase. Awards for three scholarships were presented: the Chancellor's Scholarships, the Betty Hedin Elsner Scholarship and the Maricopa Community Colleges Foundation Scholarships.
The event also features a showcase of exceptional work by representatives from all 10 Maricopa colleges.
The Chancellor's Scholarship acknowledges and rewards ten students (one from each of Maricopa's colleges) who demonstrate the highest academic achievement and service to their colleges. The scholarship covers tuition and fees for one full year, plus a $500 stipend for books and supplies.
The Betty Hedin Elsner Scholarship (established in memory of the mother of former Chancellor Dr. Paul Elsner) is awarded to one student from the entire student body based on achievement and financial need. The Maricopa Community Colleges Foundation Scholarships are presented to students representing each college to reward and encourage highly motivated, academically gifted students to reach their educational goals.
Maricopa Community Colleges Chancellor Dr. Rufus Glasper said, "We are proud to recognize these students for their unwavering commitment to attaining their educational goals, becoming a member of the Maricopa family, and representing Maricopa in the larger community. We are grateful to our donors who continue to help us make college education a reality for so many of our students."
###
The Maricopa Community College system is one of the largest in the nation. It includes 10 regionally accredited colleges – Chandler-Gilbert Community College, Estrella Mountain Community College, GateWay Community College, Glendale Community College, Mesa Community College, Paradise Valley Community College, Phoenix College, Rio Salado College, Scottsdale Community College and South Mountain Community College – the Maricopa Skill Center, Southwest Skill Center, several satellite campuses, business and industry training; workforce development, technical and customized training institutes.