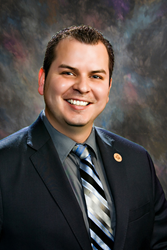 Phoenix, AZ (PRWEB) April 10, 2015
Paradise Valley Community College is hosting a series of informative and stimulating public policy discussions of interest to students and the general public. Hosted by District 19 Representative Mark A. Cardenas, the April 14 forum will focus on the controversial issue of legalizing marijuana in Arizona.
In January, Representative Cardenas introduced House Bill 2007, to decriminalize marijuana possession of up to one ounce for adults 21 and older. The legalization would have expanded the current medical marijuana dispensary process, and addressed the issue of growing plants for personal consumption.
The proposed Bill included a tax structure to be applied to marijuana sales, with the funds earmarked for education; substance abuse treatment programs and public education campaigns; and the general fund.
The Bill did not make it out of committee.
An Iraq War Army Veteran, Representative Cardenas served as a Sergeant in the Army Reserves and managed a multi-million dollar budget. As a legislator, supported ground-breaking legislation last year to expand AHCCCS coverage and increase funding for K-12.
As a commissioner on the City of Phoenix's Estrella Village Planning Committee, he is responsible for reviewing new zoning areas and land use proposals. He is passionate about shaping the future vision and character of the community.
Sponsored by PVCC's Student Life & Leadership, the Student Public Policy Forum is free and open to the public, and takes place at the college's Union Hills campus, located at 18401 North 32nd St., just west of the SR 51 Union Hills exit. Parking is always free.
###
Founded in 1985, Paradise Valley Community College is one of the 10 regionally accredited Maricopa Community Colleges, offering transferable academic courses as well as job-specific occupational training. The Union Hills campus is located just west of the SR51 Union Hills exit, at 18401 N. 32nd Street, Phoenix, AZ 85032. PVCC at Black Mountain, serving the far north Valley, opened in August 2009. PVCC is accredited by the Higher Learning Commission (HLC) of the North Central Association (NCA).