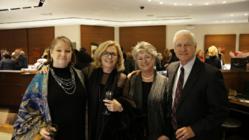 The Woodlands, TX (PRWEB) February 15, 2012
The Montgomery County Community Foundation (MCCF) held its 2nd annual Gifts of the Vine Wine Dinner and fundraiser last week at Jasper's Restaurant on Market Street. The organization, which provides a permanent source of funding through grants to Montgomery County nonprofits, raised over $50,000, topping last year's contributions. The event was sponsored and hosted by Thomas Markle Jewelers of The Woodlands, Sewell Infinity of North Houston, Richie's Specialty Pharmacy, and Jasper's Restaurant.
The evening's festivities began with a wine and diamonds cocktail hour at Thomas Markle Jewelers, followed by dinner at Jasper's. Patrons enjoyed a three course wine dinner followed by a live auction showcasing jewelry, fine wines, luxury accessories, and a trip generously donated by board members and local retailers.
The funds raised at this year's event will help cover the foundation's administrative costs for one year. To date, MCCF has raised all of their yearly administrative costs through annual fundraisers, which allow the earnings of the endowments they administer to be distributed back to the various nonprofit organizations within Montgomery County. MCCF also hosts an annual Shoot Out sporting clay competition in August as part of their ongoing fundraising efforts.
"Our board works year round to maximize grants given to local humanitarian, educational, and cultural organizations in this remarkable region we call home. Thanks to the wonderful MCCF board of directors and their guests, this year's event was very successful," said Executive Director, Shannon Kidd.
In 2011, MCCF awarded $106,300 in grants to twenty-six county nonprofits and an additional $7,700 in educational scholarships to local students.
To find out how to support the Montgomery County Community Foundation, visit http://www.mccfoundation.org.
About Montgomery County Community Foundation: The Montgomery County Community Foundation (MCCF) is a publicly supported nonprofit charity, and one of 700 community foundations in the United States. The Foundation was established to create a permanent fund to aid the wellbeing of the community. In addition to educational scholarships awarded to local students, local organizations receiving funds from MCCF include: Montgomery County Food Bank, Montgomery County Youth Services, Montgomery County Women's Center, Crighton Theatre Foundation, Therapy Pet Pals of Texas, Children's Safe Harbor, and several others.
###