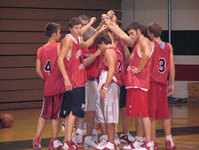 Hard work can be fun when approached with the right attitude!
San Rafael, CA (Vocus) April 7, 2010
For 48 years The McCracken Basketball Camp has provided excellent instruction and the opportunity to improve to over 100,000 boys and girls. This summer's programs will be offered at eight locations in three states. Players can choose from a variety of camp programs including Complete Skills, Shooting, Advanced, and Post/Perimeter. This year players will also have the option of a new combination program that will be tailored to meet their specific needs.
The two long-stated goals of basketball camp are that each camper should have fun and learn to become the best player that he or she can possibly be. The staff works toward both of these goals in every camp activity. Camp Director Todd German believes that basketball must be fun and that players should look forward to going to the gym. He stresses, however, that making things fun doesn't mean not working hard. German states, "Hard work can be fun when approached with the right attitude!"
The MBC's second goal is that campers work to be the best they can possibly be. To achieve this goal the camp program helps players learn how to play the game correctly, and how to practice those techniques. "Playing games is good for improving reactions and decision-making in game situations," Coach German cautions, "but there are limits to how much improvement can be made if all a developing player does is play games."
"The McCracken Basketball Camp program will give an advantage to the individual player looking to improve," says German, "and we are looking forward to a great 2010 summer camp season."
New locations for 2010 are Saint Joseph's College in Rensselear, IN and the Wayland Academy in Beaver Dam, WI. These are in addition to existing locations which include: Olivet College, MI; Adrian College, MI; Huntington University, IN; Fort Wayne, IN; Battle Creek, MI; and Marshall, MI. McCracken Basketball Camps are part of the US Sports Camps network.
About US Sports Camps:
US Sports Camps (USSC), headquartered in San Rafael, California, is America's largest sports camp network and the licensed operator of Nike Sports Camps, including the sports of softball, baseball, tennis, golf, soccer, basketball, field hockey, lacrosse, running, swimming, volleyball, and football. The company has offered summer sports camps since 1975 with the same mission that defines it today: to shape a lifelong enjoyment of athletics through high quality sports education and skill enhancement.
For more information on McCracken Basketball Camps and US Sports Camps, please visit the company's website, http://www.ussportscamps.com/basketball/ or phone 1-800-433-6060.
###