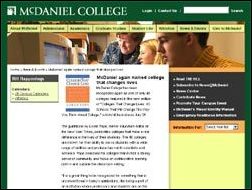 It is a great thing to be recognized for something that is unconventional in today's admissions, like being a part of an institution where professors and students are on the same level and where teachers put students first
Westminster, MD (PRWEB) August 2, 2006
McDaniel College, with campuses in Westminster, Maryland and Budapest, Hungary, has been recognized again as one of only 40 colleges featured in the new edition of "Colleges That Change Lives: 40 Schools That Will Change The Way You Think About College," which hit bookstores July 25.
The guidebook by Loren Pope, former education editor of the New York Times, celebrates colleges that make a real difference in the lives of their students. The 40 colleges are known for their ability to serve students with a wide range of abilities and produce top-notch scientists and scholars. Pope searched for colleges that exhibit a strong sense of community and focus on collaborative learning both in and outside the classroom setting.
"It is a great thing to be recognized for something that is unconventional in today's admissions, like being a part of an institution where professors and students are on the same level and where teachers put students first," says Gina Rende, acting director of admissions. "When students read the chapter about McDaniel, it gives them a feel of the character of the school that they can't find in rankings."
Of McDaniel College students, Pope writes, "This is a community of nice, earnest, unassuming, quietly self-assured teenagers who realize they are getting a first-rate education and who regard their teachers as their friends and mentors."
The one-on-one attention students receive translates into a close-knit community with a family atmosphere, but not at the expense of rigorous academics, according to Pope.
"Deans, faculty members, and students agreed… on the feeling of family, but they all emphasized that it was a family in which expectations were high, the standards firm, and the grading tough," he writes.
Because of this, Pope demonstrates how McDaniel students are not only accepted to the best graduate schools – McDaniel seniors scored higher on the Medical College Aptitude Test than those at four of the Ivy universities – but go there feeling more academically prepared than their counterparts who come from well known universities.
McDaniel College was also featured in the first and second editions of "Colleges That Change Lives," published in 1996 and 2000. The book received critical acclaim from The New York Times, The Christian Science Monitor and The Baltimore Sun, as well as praise from students, parents, and college counselors for encouraging students to view college rankings as only one factor among many when choosing a college.
For more information visit the "Colleges That Change Lives" Web site at http://ctcl.com.
###