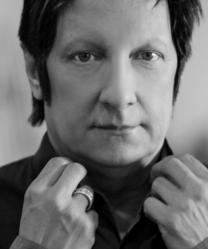 "I am deeply honored to be recognized by MIT, an institution committed to facing the challenges of our era and imagining a better future."
Cambridge, MA (PRWEB) October 27, 2011
The Council for the Arts at MIT is pleased to announce that Robert Lepage is the recipient of the 2012 Eugene McDermott Award in the Arts at MIT, which includes an $80,000 cash prize and a campus residency. Renowned as a director, filmmaker, playwright, and actor, Lepage is currently directing Wagner's Der Ring des Niebelungen at the Metropolitan Opera in New York. He also has created two Cirque du Soleil productions and The Image Mill™, a spectacular architectural illumination and urban projection. The award celebrates innovative talents in all arts disciplines and is one of the most generous cultural honors in the U.S. The official announcement will be made at the Council's 39th annual meeting at MIT on October 27.
Lepage's diverse and expansive body of work defies categorization. He and his creative team Ex Machina have made dazzlingly original contributions to theatre, opera, film, stagecraft, circus performance, and public art. In his most recent work, Lepage transformed Wagner's Ring cycle with an adventurous and technically sophisticated set in a groundbreaking production, the most ambitious the Metropolitan Opera has ever attempted. Its centerpiece is a monumental platform for digital projections and scenic effects dubbed "The Machine," whose planks rise, fall, ripple, or splay around a central axis to create dramatic simulations of Wagner's imaginary cosmos. Das Rheingold and Die Walküre were presented last season. Siegfried will be performed October 27, November 1 and 5, 2011, and Die Götterdämmerung on January 27 and 31 as well as on February 3, 7 and 11, 2012.
The complete cycle will be presented beginning in April 2012 in New York, coinciding with Lepage's residency at MIT. On Thursday, April 26, 2012, Lepage will be honored in Cambridge with the McDermott Award during a public ceremony that will include a discussion of his work with Peter Gelb, general manager of the Metropolitan Opera.
From Robert Lepage:
"The survival of the art of theatre depends on its capacity to reinvent itself by embracing new tools and new languages. In a way, innovators in both arts and sciences walk on parallel paths: they have to keep their minds constantly open to new possibilities as their imagination is the best instrument to expand the limits of their fields. I am thus deeply honored to be recognized by MIT, an institution committed to facing the challenges of our era and imagining a better future."
From MIT Associate Provost and Ford International Professor of History Philip S. Khoury:
"MIT recognizes in Lepage an exemplary commitment to experimentation, risk-taking, and technical innovation in the service of artistic production. Lepage's collaborative approach to artistic creation and embrace of unscripted encounters between scientists and playwrights will resonate in MIT's culture, and we look forward to stimulating interactions with faculty, students, and researchers during his visit to MIT next April."
About Robert Lepage
Ex Machina, the multidisciplinary production company that Lepage founded in 1994, became a turning point in his career. In that year, he made his first feature file, Le Confessional, followed in 2000 by Possible Worlds, his first feature film written in English, and a film adaptation of his successful play The Far Side of the Moon, in 2003. In 1997, he opened La Caserne, an avant-garde production center in Quebec City devoted to the premise that new artistic forms will emerge from a comingling of the performing arts (dance, opera, theatre) with the recording arts (film, video, and multimedia).
http://lacaserne.net/index2.php/robertlepage/
About the Eugene McDermott Award in the Arts at MIT
Established in 1974 by the Council for the Arts at MIT, the Eugene McDermott Award in the Arts at MIT is bestowed upon individuals whose artistic trajectory and body of work indicate that they will achieve the highest distinction in their fields. The award, which recognizes Eugene McDermott, cofounder of Texas Instruments and longtime friend and benefactor of MIT, reflects MIT's commitment to risk-taking, problem solving, and the idea of connecting creative minds across disciplines.
http://arts.mit.edu/mcdermott; Leila Kinney - lwkinney(at)mit(dot)edu
http://arts.mit.edu/about/council/; Susan Cohen - cohen(at)media(dot)mit(dot)edu
http://www.lacaserne.net; Sylvie Isabelle - sisabelle(at)exmachina(dot)qu(dot)ca
ROBERT LEPAGE AT MIT
http://arts.mit.edu/mcdermott
RESIDENCY AT MIT:
April 24 – 26, 2012
Thursday, April 26, 2012, 5pm
Robert Lepage, in dialogue with
Peter Gelb, General Manager,
Metropolitan Opera
Free and open to the public
Kresge Auditorium
48 Massachusetts Avenue,
Cambridge, MA 02139
Further details about the residency will
be announced in February 2012.
Related Event:
The Andersen Project
Ex Machina/Robert Lepage
ArtsEmerson: The World on Stage
Cutler Majestic Theatre, Boston
March 24 to April 1, 2012
http://www.artsemerson.org
###