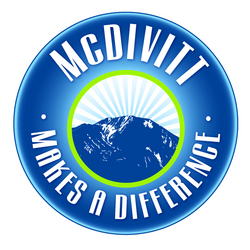 Community service is a big part of who we are and what we stand for
Colorado Springs, CO (Vocus) February 16, 2010
To McDivitt Law Firm, community service isn't an obligation—it just comes naturally. Whether it's paying for more than 800 safe cab rides home on New Year's Eve, sponsoring Drive Smart Colorado Springs' High School Challenge, or supporting local charities, the members of the firm genuinely care about the safety and well-being of their neighbors. Because of this commitment to helping others, they've created McDivitt Makes A Difference—a year-round program that encompasses all the firm's community service efforts.
McDivitt Makes A Difference raises awareness about the needs and services for those in the Colorado Springs and Pueblo areas. Events include the firm's Safe and Sober Free Ride Home program, which is held four times a year, and supporting local events to raise funds for those in need.
"Community service is a big part of who we are and what we stand for," said firm founder and attorney Mike McDivitt.
Fame and Fortune Await Winner!
To kickoff McDivitt Makes A Difference, the law firm is holding a video public service announcement (PSA) contest to teens in Colorado Springs and Pueblo this spring. High school students (grades 9 to 12) must enter a 29-second video PSA about the importance of driving safely, which can include distracted driving, impaired driving, or seatbelt safety, to name a few. Entries will be judged on students' abilities to analyze the topic and produce quality videos.
"Whether texting or playing with the radio, too many distracted drivers are taking their lives and the lives of others on the road for granted," said Karen McDivitt, Business Manager of McDivitt Law Firm. "Our PSA contest is meant to award originality, conscientiousness, and active participation in the prevention of this grave issue."
The first place prize includes:

the choice between an Apple MacBook Pro with Final Cut Express and software tutorial from a licensed Apple Consultant from ASSISTech, a Colorado Springs computer consulting company OR a $1,500 gift card to a local electronics store
local television placement of the winning PSA, which will air in early April
a monetary donation to the winner's school
"Thanks to McDivitts and the wonderful prize of a Mac computer, I have been able to take my video making to the next level," said last year's contest winner Sara Khan, an 11th-grade student at the Colorado Springs School. "Over the summer, I formed my own production company, Khankrete Pictures. Since then, I've produced two videos for my school and been a finalist in this year's 'I Am What I Learn' video contest hosted by the Department of Education."
Entries must be postmarked by April 7, 2010. Click here to learn more about the contest and watch entries.
McDivitt Makes A Difference
McDivitt Makes A Difference recognizes the importance of giving back to the Colorado Springs and Pueblo communities. The year-round initiative encompasses the law firm's community service efforts and encourages both community and firm members to prevent injuries, improve health and fitness, and aid organizations committed to bettering health and well-being. Ongoing projects include the firm's Safe and Sober program, which has provided more than 2,600 safe rides home, as well as the annual spring PSA contest for local teens. To learn more, visit http://www.McDivittMakesADifference.com.
About McDivitt Law Firm
McDivitt Law Firm is a highly visible and respected personal- and work-injury law firm that provides legal advice and representation for a wide variety of issues, including those related to workers' compensation, Social Security Disability, and general personal injury claims for those injured in Colorado and beyond. With offices in downtown Colorado Springs, Pueblo, and Denver, McDivitt Law Firm was founded by Attorney Mike and Dr. Karen McDivitt and includes lawyers, paralegals, and support staff. Visit http://www.McDivittLaw.com to learn more.
###