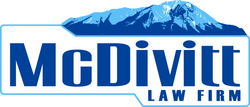 We're proud to help give teens the opportunity to voice their opinions and concerns about the serious nature of underage drinking and driving
Colorado Springs, Colorado (PRWEB) May 4, 2009
Sara Khan, a 10th grade student in Colorado Springs, recently won the McDivitt Law Firm Video Public Service Announcement Contest, which asked local teens to produce videos discussing their feelings and thoughts regarding the dangers of underage drinking and driving. Using household items such as clay and soap, Sara created a unique and artful PSA that brings a surrealist spin on a common message.
"We're proud to help give teens the opportunity to voice their opinions and concerns about the serious nature of underage drinking and driving," said attorney Mike McDivitt.
During a ceremony on April 28, Mike McDivitt and his wife, Karen, who is the firm's community outreach coordinator, presented Sara with her prize, which includes:

an Apple MacBook® with Apple Final Cut Express HD
custom computer and software tutorial from Mark Pimentel, owner of ASSISTech, a Colorado Springs-based computer consulting company and licensed Apple Consultant
local television placement of the winning PSA, which will be aired beginning April 4
A donation of $2,000 also was given to Sara's school on behalf of the McDivitt Law Firm.
"The McDivitts are doing so much for youth awareness here in Colorado Springs," said Karen Teel, youth programs specialist at MADD Colorado. "We appreciate them for all that they do to increase underage drinking awareness and prevent drunk driving within our community."
The contest resulted in many outstanding entries, so the McDivitts included second, third, and fourth place prizes. Scott Von Thun, a 10th grade student won second place and received an Apple MacBook®; Camilla Stark, a 9th grade student, won third place and received $300; and Jeffrey Stark, a 10th grade student, won fourth place and received $200. Additionally, students who didn't place in the contest each received $50 for their time and hard work.
The PSAs, which were judged on students' abilities to discuss underage drinking and driving and produce quality videos, can be found by clicking here.
About McDivitt Law Firm
McDivitt Law Firm is a highly visible and respected Colorado personal- and work-injury law firm that provides legal advice and representation for a wide variety of issues, including those related to workers' compensation, Social Security Disability, and general personal injury claims for those injured in Colorado and beyond. With offices in downtown Colorado Springs, Pueblo, and Denver, McDivitt Law Firm was founded by Attorney Mike and Dr. Karen McDivitt and includes lawyers, paralegals, and support staff to provide caring, aggressive, energetic, and thorough legal representation for people who have been injured physically, psychologically, economically, and emotionally. The members of the firm recognize the importance of giving back to the community and sponsor the Safe and Sober Free Ride Home program on New Year's Eve, St. Patrick's Day, Cinco de Mayo, and Halloween as well as the firm's annual video PSA contest for high school students.
###