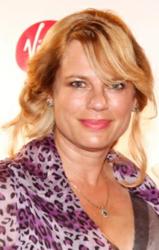 Omaha, NE (PRWEB) July 02, 2012
Deborah J. McDonald, Director and Producer of the feature documentary, 50 year old FRESHMAN: Suzanne Heim-Bowen, continues to impress audiences with international accolades. The film has only screened at two film festivals so far, but it has scooped awards at each one. In March at the 2012 Indie Spirit Film Festival it was the winner of Best Sports/Outdoor Feature and it garnered the Best New Film Award at the International Aquatic History Symposium & Film Festival in Ft. Lauderdale in May.
"Suzanne's story is an inspiration to all women, whether they are 15 or 50 or 80 years old because she doesn't let physical or mental obstacles get in the way of a successful outcome. She truly believes that you don't have to feel well to do well and that's a pretty empowering perspective. And like her," explains McDonald, "I'm an athlete, so I know what that means in its simplest terms – blood, sweat and tears. My challenge was to capture the spirit of a champion on camera."
California's Diablo Valley College recruited Heim-Bowen at the tender age of 50 to compete against swimmers 30 years her junior. Masters swimming Hall of Fame inductee Heim-Bowen accepted the challenge despite the obstacles. McDonald's film documents this record-smashing season and chronicles the 30 years of open water exploits leading up to the 2009 DVC swim season.
Following on the heels of the 2012 Olympic Trials for Swimming, McDonald has been invited to screen at the U.S. Masters Swimming Nationals at the CenturyLink Center in Omaha, Nebraska currently scheduled for the evening of July 5, 2012. "I saw the film and was moved," shares Rob Butcher, Executive Director of the national U.S. Masters Swimming organization, "Deborah captures the heart of Suzanne in this inspirational story and I know it will resonate with the Masters swimming community so we're excited to offer this showing." A Q&A with McDonald and Heim-Bowen will immediately follow the screening. Upcoming film festival screening dates will be announced in the coming weeks.
Deborah J. McDonald graduated Cum Laude as a Director with a Bachelor of Fine Arts from the Academy of Art University in San Francisco. In 2005 she took NATPE international gold for a commercial campaign that she wrote, directed, and produced and was a finalist for best commercial of the year at Filmfest. In 2006 she was profiled on the FOX prime time special "The Fine Line On Design" and in April 2012 her documentary "50 year old FRESHMAN: Suzanne Heim-Bowen" won Best Sports/Outdoor Feature at the Indie Spirit Film Festival and in May 2012 it won Best New Film at the International Aquatic History Film Festival. Deborah J. has received the Ottawa CJOH Television screenwriting grant, Executive Produced and hosted her own cable access show and worked with Producers on American Idol for two seasons. She also holds a Bachelor of Arts in Political Science from the University of Toronto (Victoria) and is a Canadian Chartered Accountant (Ernst & Young).
For More Information, please contact:
MBI Consulting, Inc.
Nina Brauer, nina(dot)brauer(at)mbi-consulting(dot)com, (843) 557-4290
Anja Krammer, anja(dot)krammer(at)mbi-consulting(dot)com, (509) 990-2313