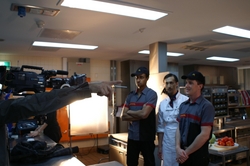 The Macca's Chef series is designed to be fun, but also participatory. We will put our burgers to the test and will learn from our consumers. We also hope it will show potential new trainee's the fun side of our business
Lanham, MD (PRWEB) September 30, 2009
Utilising social media, a MasterChef spoof 9-part webisode series has been created by FremantleMedia for McDonald's Australia. The webisodes will launch on http://www.masterchef.com.au/littlebitfancy as Celebrity MasterChef gets underway tonight. McDonald's will be also invite customers to go to the site and star rate the Angus Burger range.
The webisode series has been executive produced by Chris Culvenor, who had an integral part in reformulating MasterChef for Australian audiences and who is credited with producing the wildly successful digital series, Myspace Road Tour.
The webisodes will follow two trainees, Steve and Chris who will battle it out to become Australia's first Macca's Chef. They will compete in a 9 series intensive competition in a parody of MasterChef Australia, as they complete Taste Tests, The Tomato Challenge, The Drive Thru Challenge, The Customer Service Challenge, a Cook Off and more. The trainee's are to be guided and mentored to create the "It's a little bit fancy" Angus Burger range by Jean-Pierre Benoit-Gateux towards a grand finale to win the title of Australia's Macca's Chef!
Throwing open the doors to the inside of its business, as well as the comic webisodes, shows the lighter side of McDonalds Australia. In a market first for the company, they will invite the public to rate the Angus Burger range. It is also inviting the online social community, social media participants and bloggers, to view behind the scene's footage, get an inside track into the progress of the rating results and is offering a sneak peak to the webisodes in advance of publication.
"The Macca's Chef series is designed to be fun, but also participatory. We will put our burgers to the test and will learn from our consumers. We also hope it will show potential new trainee's the fun side of our business", said Toby Dewar, McDonald's National Sponsorship and Media Manager
The first webisode of the nine webisodes can be downloaded here: Episode 1.mp4
Hear from Jean Pierre here: Jean Pierre.mp4
See the Making of the webisodes here TheMakingOf.mp4
For social media participants who want to receive advance material or request exclusive pieces specific to their weblogs please contact Fi Bendall on Fiona@bendalls.com.au. 0431 032 426
Credits:
Client: McDonalds Australia
Agency: OMD Fuse
Production House: Fremantle Media
Social: Bendalls.com.au
###