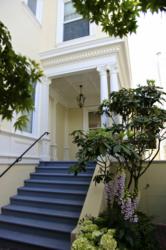 We are so sure of the caliber of our work that WE GUARANTEE COMPLETE SATISFACTION
San Francisco, CA (PRWEB) July 31, 2012
Patrick McDonough of San Francisco based McDonough Painting is thrilled to announce the launch of McDonough Paintings' new website.
With 20 years of experience painting the finest homes and commercial buildings in the San Francisco Bay Area, large and small, the website highlights the breadth of building and architectural painting work they do. Known for their exceptional eye for color and execution of painting on architectural details, McDonough Painting is the artisan firm sought out by respected interior designers, architects and discerning homeowners when the paint job has to be perfect. Whether contemporary or traditional in style, McDonough Painting understands what it takes to get the job done. In fact, they guarantee their work! They pride themselves on clear communication with all parties involved, supply well trained craftsmen on each project, and understand how the paint job integrates with the overall building and garden design integrity.
McDonough Painting offers an extensive selection of services includes painting of new residential and commercial construction, architectural restoration work, color consultations, waterproofing, faux finishes, and repairs of various decorative surfaces including stucco, plaster and wood just to name a few. Patrick says, "Each job, whether large or small, is important to us. From grand mansions and buildings to studio apartments, we treat each job and customer with the utmost respect and care. We are so sure of the caliber of our work that WE GUARANTEE COMPLETE SATISFACTION."
To view the new McDonough Painting website and their portfolio of painting projects, please visit http://www.mcdonoughpainting.com/portfolio.html.
About McDonough Painting
For nearly 20 years San Francisco's McDonough Painting has earned a superior reputation for providing high quality residential and commercial interior and exterior painting throughout the greater SF Bay area. McDonough Painting has built a solid reputation providing the type of painting service that is customized to meet the needs of their clients.
They pride themselves on their craftsmanship, attention to detail and color expertise as well as exceptional customer service and in creating beautiful interior and exterior living and work spaces that their clients will enjoy and be proud of.
To learn more about McDonough Painting and view samples of the expert interior and exterior painting, visit http://www.mcdonoughpainting.com/index.html