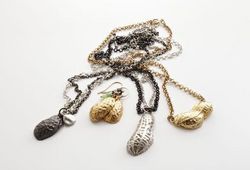 "We are inspired by the world around us," says co-founder Marian Jones. "Our goal is to create raw, elegant, natural jewelry that's fun to wear and fashionable."
Chattanooga, TN (PRWEB) September 17, 2010
Trend-setting fashion accessories aren't just from New York City and Paris. In July 2010, trend-setting magazine and media group, Garden & Gun: Soul of the New South, featured McGowan & McClain in their "Belle Décor" blog, previewing their "Made in the South" awards. This was just the latest in an ever-brighter spotlight of attention on McGowan & McClain jewelry, designed by Marian and Laura Jones (McGowan and McClain are their middle names).
These women continue their rise in the design world, appearing in boutiques across the United States, participating in Fashion Week events in Chicago and New York City. They are one of a few new designers that will be spotlighted during Fashion Interaction by "Art for Progress" in New York City September 21, 2010.
Currently, McGowan & McClain includes two separate jewelry lines: The Carbon Collection and the Window Collection. The Carbon Collection includes pieces hand-cast from seeds, pods, peels, and other natural materials from nature and organic materials. The Carbon line also includes one-of-a-kind geode necklaces backed with gold vermeil. The Window Collection was inspired by windows in historic buildings around their hometown, illustrations in antique books, and contemporary architectural design.
Each piece of McGowan & McClain jewelry is inspired by nature and the world around the designers, who translate patterns and designs into tactile, sculptural jewelry and accessories perfect for casual, everyday wear and special occasions. Pieces are fabricated from a variety of gold, silver and semi-precious stones.
Cousins Marian and Laura Jones pondered the idea of working together-while they were still in elementary school. Each had a love for design and an interest in jewelry. Fast-forward to college: Marian attended Colorado State University in Fort Collins, CO and Laura studied metalsmithing and jewelry design at the University of Georgia. After graduation, Marian apprenticed with well-known jewelers and continued her classical training in metalsmithing. Laura studied casting techniques in Cortona, Italy.
In October of 2008, the two joined together to form McGowan and McClain, designing natural and organically inspired jewelry from their studio in Chattanooga, TN.
McGowan & McClain pieces are available in many retail locations, and are available for wholesale purchase by contacting 423.648.2290 or info(at)mcgowanandmcclain(dot)com
Retail Locations:
Nest Interiors
Nashville, TN
Scott Laurent Collection
Winter Park, FL
Twelve Boutique & Flowers
Atlanta, GA
Treasure House Accessories
Owings Mills, MD
C Martin Collection
Chattanooga, TN
Gift Gourmet and Interiors
Knoxville, TN
Heart of the Home
New Hope, PA
###