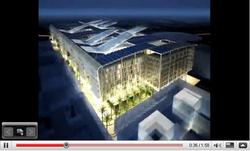 New York, NY (Vocus) October 9, 2009
Green building practices are becoming widely accepted around the globe as greater numbers of people recognize the real benefits provided by sustainable practices and products. The epitome of the green building ideal-- net-zero energy buildings-- was the topic of Architectural Record's 2009 Innovation Conference held in New York this week. 300 experts, architects, scientists and students from around the world gathered to discuss how to get from today's practices to tomorrow's innovations, using the latest materials, technologies and systems on the market, such as nanotechnology and cutting-edge information technology systems.
To learn more, watch the video summary at http://www.youtube.com/watch?v=QJ_Tk97WaOg. The video features technology insights shared during the event.
Net-zero energy buildings are becoming more and more common, especially in California, but also in Wisconsin, Minnesota, Ohio, Hawaii and Colorado. For examples, check out http://zeb.buildinggreen.com/.
Additional information about the conference can be found on http://ArchitecturalRecord.com or on Twitter (#innov09).
About McGraw-Hill Construction
McGraw-Hill Construction connects people, projects and products across the design and construction industry. For more than a century, the Company has remained North America's leading provider of construction project information, plans and specifications, product information, industry news, and industry trends and forecasts. In print and online, the Company offers a variety of tools, applications, and resources that easily integrate with its customers' workflows. Backed by the power of Dodge, Sweets, Architectural Record, Engineering News-Record, GreenSource, and 11 regional publications, McGraw-Hill Construction serves more than one million customers within the $5.6 trillion global construction community. To learn more, visit http://www.construction.com or follow @mhconstruction on Twitter.
About The McGraw-Hill Companies
Founded in 1888, The McGraw-Hill Companies (NYSE: MHP) is a leading global information services provider meeting worldwide needs in the financial services, education and business information markets through leading brands such as Standard & Poor's, McGraw-Hill Education, BusinessWeek and J.D. Power and Associates. The Corporation has more than 280 offices in 40 countries. Sales in 2008 were $6.4 billion. Additional information is available at http://www.mcgraw-hill.com.
# # #