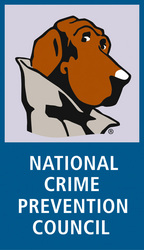 Take A Bite Out Of Crime®
Arlington, VA (Vocus) July 2, 2009
McGruff the Crime Dog turns 29 years young today. Since his debut in 1980, the beloved icon of the National Crime Prevention Council has helped people "Take A Bite Out Of Crime."
In his 29 years, McGruff has become a part of America's fabric. And McGruff isn't slowing down. This year he has launched a new set of crime prevention messages that talk about such issues as preventing gangs, reducing vacant property crime caused by the foreclosure crisis, and preventing cyberbullying. Naturally, he is continuing to emphasize the need to protect children and youth. The Crime Dog is also gearing up to make hundreds of appearances across the country as part of the second annual Celebrate Safe Communities initiative, which will kick off NCPC's National Crime Prevention Month in October. Celebrate Safe Communities is a partnership of NCPC and the National Sheriffs' Association that is supported by the U.S. Department of Justice.
McGruff's legacy began when his first television commercial said, "You don't know me … yet. But you will." Since then, McGruff the Crime Dog has taught millions of people that the police can't prevent crime alone. Over the years, McGruff has made thousands of appearances at community and school events and on radio and television. Along the way, he has enlisted celebrities including the late Ed McMahon to appear in his public education campaigns. His messages have garnered more than $1.5 billion in donated advertising time. While he still presents tips about how individuals and families can stay safe from crime, he also champions such 21st century issues as protecting children and adults from such emerging crimes as school safety, cyber crimes, and identity theft.
For more information on how to get involved or support crime prevention programs in your community, visit http://www.ncpc.org.
About the National Crime Prevention Council
The National Crime Prevention Council (NCPC) is a private, nonprofit organization whose primary mission is to be the nation's leader in helping people keep themselves, their families, and their communities safe from crime. NCPC manages public service advertising under the National Citizens' Crime Prevention Campaign--symbolized by McGruff the Crime Dog® and his "Take A Bite Out Of Crime®" slogan--and acts as secretariat for the Crime Prevention Coalition of America, more than 400 national, federal, state, and local organizations representing thousands of constituents who are committed to preventing crime. NCPC is funded through a variety of government agencies, corporate and private foundations, and donations from private individuals. For more information on crime prevention issues, visit http://www.ncpc.org.
Further Information:
Michelle Boykins, 202-261-4184
Amy Vimislicky, 202-261-4156
http://www.ncpc.org
# # #