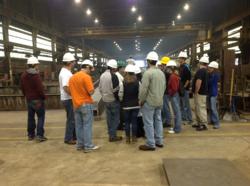 "We have a shortage of structural engineers," says Cancelliere, "SteelDay gives us a fantastic opportunity for undergraduate and graduate students to experience the work, people and technology behind today's steel industry firsthand."
Bath, PA (PRWEB) October 02, 2012
MC Ironworks (MCIW), a Lehigh Valley structural steel fabricator, welcomed nearly 50 people to its SteelDay tour of MCIW's 90,000 square feet facility. John Cancelliere, CEO and President, was excited to see that 29 of those in attendance were engineering students.
Cancelliere has made it one of his missions to encourage engineering students to consider careers in the steel industry. "We have a shortage of structural engineers," says Cancelliere, "SteelDay gives us a fantastic opportunity for undergraduate and graduate students to experience the work, people and technology behind today's steel industry firsthand." While the majority of students came from nearby Lehigh University, students also travelled from New York's Manhattan University and the University of Buffalo. Adds Cancelliere, "The event allows us to showcase our facility to clients and prospects. Our staff really enjoys preparing for the event as well. They are excited to share the work we do."
SteelDay is an annual event national sponsored by the American Institute of Steel Construction and hosted by members and partners. It is the industry's largest educational and networking opportunity with events occurring all over the country. MCIW hosts the event every other year and will host again in 2014, but tours can be arranged anytime by contacting MCIW at 610.837.9914
MC Ironworks is an AISC-certified structural steel fabricator specializing in bridge rehabilitation, new bridge construction and other transportation infrastructure. They also have extensive experience in the fabrication of commercial / industrial superstructures. Their direct customers are general contractors, construction managers, erectors and other fabricators throughout the Northeast and Mid-Atlantic region, who demand a reliable fabricating and painting resource.
For more information about MC Ironworks, visit http://www.mcironworks.com.